What are the most popular Thief games?
What are the new Thief games?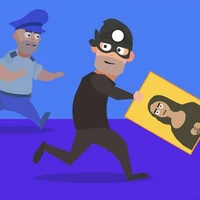 Play Free Thief games Online
Gaming often provides a fascinating insight into occupations that would be too dangerous in reality. Criminal activities form a special niche in the medium due to the thrill they create. Breaking and entering, robbing banks, or snatching away valuable artifacts never gets old. That isn't to say that stealing something is inherently bad. When it serves noble purposes, pickpocketing enemies is usually preferable to mercilessly killing them. To experience the full spectrum of practices involved, users play thief games of various kinds. They are very effective at inducing the entire range of feelings associated with the process. Avoid detection and take a breath of relief when entering a well-concealed spot. Watch a guard's every move vigilantly to take a key from them without them noticing. Outrun the police vehicles during a hot-pursuit chase and get away unscathed. These and other related tasks keep the audience at the edge of their seats throughout.
Working in the Shadows
What all the aforementioned titles have in common is their unique gameplay dynamics. Moments of calm and tranquility turn into suspenseful sequences followed by intense bursts of adrenaline. However, compared to other categories on Kevin Games, this one encompasses numerous genres. A particular person might gravitate towards specific playstyles depending on their individual preferences. Here's what fans have to choose from:
Stealth action. Side-scrolling, first- or third-person simulators where the goal is to remain undetected. They typically reward sneaking and incapacitating opponents silently. Open confrontation, on the other hand, is far less effective.
Getaway driving. Racing fast cars to escape pursuers in different scenarios. Alternatively, the missions focus on the general theme of motor vehicle theft.
Puzzles and brain-teasers featuring robbers or treasure hunters as their protagonists. Participate in complicated heists to obtain valuable items. Outsmart security systems, activate intricate mechanisms, and interact with the environment.
There is no shortage of great entries to explore. Each can potentially deliver hours of fun. They tend to exceed expectations and satisfy the most demanding gamers.
How to Find Thief Games Online
Downloading files and keeping them in local storage is no longer necessary. These days, even advanced virtual adventures run surprisingly well in regular web browsers. Aggregators offer instant access to huge bodies of content. This site features a large collection of this variety in particular. Open it through a popular client, for example, Google Chrome or Mozilla Firefox. Look for an intriguing thumbnail and click on it to access the product. Wait for the program to load, press Start, and see if it's any good. And if it is not, simply go back and try another one.
Prepare for a wild ride of breathtaking events and strong emotions. Minimizing combat encounters can be a lot more enjoyable than mindlessly mashing buttons. Browse the appropriate tag to discover dozens of cool thief games free of charge. Give them a chance, and they will not disappoint.
---
We carefully selected 7 of the greatest Thief games and made them available for you online for free.
This archive consists of browser games for desktops and mobile platforms as well as titles specifically designed for tablets and phones. Here you will find some truly amazing gems like Grand Bank: Robbery Duel, Grand City Car Thief, Master Thief, Lazy Robber, Thief.ro, and tons of other awesome free games.
---