What are the most popular Virus games?
What are the new Virus games?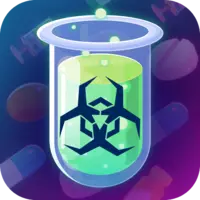 Play Free Virus games Online
Gaming is not only an enthralling entertainment medium. For millions of people around the globe, it is also a much-needed escape from reality. This has become especially evident during the pandemic. Many couldn't stand the idea of staying at home for an extended period of time. Meanwhile, gamers were having the time of their lives. Instead of complaining, they were catching up on titles they had previously missed out on. And to make light of the unfortunate situation, it felt appropriate to play virus games. Transforming a global health crisis into a source of amusement renders it significantly less scary. Alleviate anxiety by defeating dangerous illnesses in relaxing shooters and puzzles. Or act as the antagonist by helping the contagion spread across the world. There are countless ways of gamifying this subject and turning it into fun virtual experiences. Find out about the possible variations below and check them out.
Cure for All Ailments
After the initial confusion, developers quickly realized that this topic has tons of potential. Different companies approached it from multiple angles and created their own unique interpretations. The resulting products have quickly caught on and grew hugely popular on Kevin Games. They differ greatly in terms of gameplay and represent the following genres:
Action-driven titles where the goal is to destroy harmful pathogens and bacteria
Strategies that simulate the spread of infectious diseases
Multiplayer arenas where germs and microbes compete against each other
Miscellaneous casual brain-teasers and other interactive adventures with the same theme
Typically, users prefer certain playstyles over others. This selection provides plenty of choices that will satisfy even the most demanding players. Give them all a try and discover numerous fresh and engaging mechanics.
How to Access Virus Games for Free
For the uninitiated, this website specializes in options that don't cost anything. In fact, no downloading or installation is necessary to enjoy them. Simply load this page in a capable browser, like Google Chrome or Mozilla Firefox. Hover the cursor over the previews to identify potentially interesting entries. Then, left-click any of them and wait for the frame to appear right in the tab. Navigate the menus using the mouse and discern the rules from the included instructions.
Dealing with normal software distribution platforms can be a real pain. Not everyone has the luxury to plan ahead and waste hours tinkering with never-ending updates. Being able to launch virus games through online aggregators makes them available on demand. Spray strands of deadly genetic code with hand sanitizer and distribute vaccines to save lives. Or take on the role of an evil mastermind and orchestrate full-scale epidemics. Jump in at any moment and have a wonderful time.
---
We carefully selected 5 of the greatest Virus games and made them available for you online for free.
This archive consists of browser games for desktops and mobile platforms as well as titles specifically designed for tablets and phones. Here you will find some truly amazing gems like Galaxy Attack Virus Shooter, Pandemic Simulator, Virus Shot, Virus War Multiplayer, Coronavirus Slide, and tons of other awesome free games.
---