What are the most popular Crazy Games?
What are the new Crazy Games?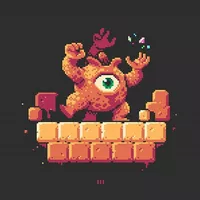 Play Free Crazy Games Online
Welcome To The Craziest Page!
Seems like you've found the craziest page on the Internet. Congrats! Say goodbye to the boring normal life. Cool and crazy games free us from low spirits. Here we've got heaps of awesome digital activities. Pick out any, from platformers to shooters. Get ready for pure madness. Some of them are completely beyond understanding!
Go Crazy, Play Crazy Games
Warning: there is going to be some "out-of-mind" action. The only requirement for the game to be added here is to be nuts. And total freedom rules the rest. As for genres, they vary. It can be a 2D arcade, a realistic first-viewer, a cooking simulator, or something else. One thing they all have in common is wow-effect. Trust us, you'll think once or twice: what the heck is happening? But at the same time you'll love it. That's how this weird magic works.
Why Crazy Games Online?
What's with the category's name? Well, not every title deserves to be called "crazy". But each of this set surely does. Like they are really insane. Here are just some of the actions you're offered to join. Try to operate a handcart on high speed while hoarding toilet paper. Burn to ashes a creepy pumpkin monster. Kick your buddy or random strangers just for fun. Become an ear doctor and get straight into the poor patient's head. You can even raise a cute poop like a tamagotchi. We've told you!
Enjoy Crazy Games Free
Here are the Top3 of the best things about browser games:
They are free: no hidden payments included.
You don't have to download any software or create an account. Just press Start and go!
You can go cuckoo with your mates (or make new friends).
Start your wildest adventure with Kevin Games. In fact, you have a 24/7 access to hundreds of craziest titles from anywhere. They are available on modern platforms, including PCs, consoles and mobile devices. All you need is an Internet connection. Just a few clicks transfer you to the kingdom of craziness. You will never be the same again. So, what are you waiting for?
---
We carefully selected 14 of the greatest Crazy Games and made them available for you online for free.
This archive consists of browser games for desktops and mobile platforms as well as titles specifically designed for tablets and phones. Here you will find some truly amazing gems like CrazyBattle.fun, Farmrun.io, Ultracraze, Goosegame.io, Red Light Green Light, and tons of other awesome free games.
---
Also people ask about Crazy Games
What is Crazy Games?

Crazy Games is a popular content aggregation website that specializes in free online video games.