What are the most popular Fighting Games?
What are the new Fighting Games?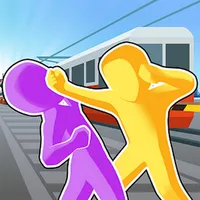 Play Free Fighting Games Online
Does the phrase "Choose your fighter" set you on fire? If your answer is "Yes!", you've come to the right place. Welcome to the page with the best fighting games online. Splash out all the anger you've been conserving. Didn't you know? Hiding strong feelings affects your mental and physical health badly. So this category is kind of a spa resort (but with scuffles). In other words, just what is needed.
One Goal, Different Scenarios
OK, the goal is crystal clear: to beat them all. What varies is the plot. Meet your opponent in different times and locations. There are lots of options for any taste. Maybe you're a sports fan. Enter the ring as a professional boxer. Become a new Oscar de la Hoya, make the crowd go nuts.
Not only sports enthusiasts play fighting games. Perhaps you're more a "peaky-blinders" kind of gamer. Then deal with your foes as a true member of the 30s' mafia. Some may think that if you wear a suit, you're harmless. And not capable of kicking that very part of one's body. Well, prove them wrong.
This Kevin Games selection wouldn't be complete without superheroes. This is who knows everything about confrontations. Plus isn't it cool to use some supernatural power to defy the injustice? Protect the weaks. Bring peace back to the city. Everyone relies on you, don't let them down.
Developers do their best to surprise you. We think they succeed. Fight in prisons, on military bases, in snowdrifts. Try a role of a robot, a ninja, or a spiderman. Trust us, you won't get bored. Maybe just punched in the face.
Enjoy Fighting Games Free
When it comes to blows, who cares for safety? We do! All content is virus-free, we've checked it for you. You don't need to download or install anything. Two things that are enough is a good internet connection and a compatible browser. Use any type of device. Most titles run smoothly on phones, tablets, and PCs. Oh, and try a multiplayer. It is a great way to spend time with your mates. Become the invincible fighter, best of all times!
---
We carefully selected 30 of the greatest Fighting Games and made them available for you online for free.
This archive consists of browser games for desktops and mobile platforms as well as titles specifically designed for tablets and phones. Here you will find some truly amazing gems like Stickman Fighter 3d Fists of Rage, Dress Up Game, Mortal Cage Fighter, Fight Simulator, Ninja robo, and tons of other awesome free games.
---
Also people ask about Fighting Games
How to get good at fighting games?

Choose a single fighter and focus on mastering their moveset first. Practice in a dedicated training mode or against an inactive second player. Learn the most common combos of other characters and how to block them.

What are the most popular fighting games?

Mortal Kombat, Tekken, Guilty Gear, Virtua Fighter, and Street Fighter are legendary tournament fighter franchises.