What are the most popular Kiss games?
What are the new Kiss games?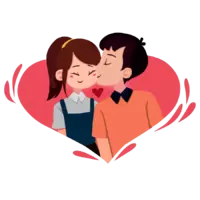 Play Free Kiss games Online
Romance is a major part of what makes human life enjoyable. Falling in love pushes individuals to better themselves and impress their potential partners. People are capable of achieving great things in pursuit of romantic relationships. They break barriers, circumvent social norms, and overcome distances in order to be together. And once they achieve that goal, they can finally fall into each other's arms. Even kids start dreaming about their future princes and princesses at a young age. And while these wonderful emotions are not always available, there are ways to experience them. Discover a huge selection of kiss games online that fill the heart with bliss. Help the characters hug and smooch without getting noticed by random bystanders. Explore different settings where the task becomes more or less challenging depending on the circumstances. Make the lovers happy, watch their feelings flourish, and have a wonderful time.
Passionate Getaway
Sometimes, newly met sweethearts just cannot get enough of each other. Sneaking around and canoodling inconspicuously is exciting in its own right. But regular folks going about their daily lives are usually not fond of witnessing it. Recreating the thrill in a virtual environment is just as fun and completely harmless. On Kevin Games, there is an entire section dedicated to these types of titles. They differ slightly in terms of presentation but are generally characterized by the following traits:
Amusing gameplay accessible and suitable for both adults and younger audiences
Simple mechanics that require focus, attention, and good reflexes to accomplish the task
Diverse themes that present a variety of scenarios where cuddling is typically frowned upon
Appealing 2D graphics featuring hand-drawn illustrations and smooth animations
Lighthearted tone enhanced by cheerful music and sound effects
The process is usually fairly simple, intuitive, and relaxing. There is no need to take it seriously. Enjoy the silly escapades and unwind after a hard day's work.
How to Play Kiss Games
Two lovebirds find themselves in a tricky situation. Their intention is to make out but the surrounding individuals might consider it inappropriate. Leavening the public space is a viable alternative, of course, but what fun is that? The least the player can do is ensure that they don't bother anyone. Click and hold the left mouse button to give them the go-ahead. Watch the screen closely for any signs of disturbances. Notice sudden movements and cues that serve as warnings of unwanted attention. Whenever a person is about to approach or turn their head, release the button. Top up the meter that indicates when the couple has had enough. Be sure to complete the objective before the timer reaches zero.
Sharing precious moments of being together without getting caught is thrilling but somewhat cheesy. Simulate these adventures in kiss games free of charge to avoid creating awkward situations. These digital amusements will put anyone in a great mood. Launch them through this site using a popular web browser and have a blast.
---
We carefully selected 7 of the greatest Kiss games and made them available for you online for free.
This archive consists of browser games for desktops and mobile platforms as well as titles specifically designed for tablets and phones. Here you will find some truly amazing gems like Kissing in Music Class, Air Hostess Kissing, Beach Date, Nurse Kissing, Archery Kissing, and tons of other awesome free games.
---