What are the most popular Board Games?
What are the new Board Games?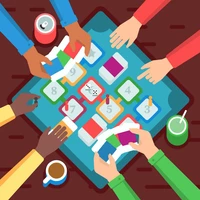 Play Free Board Games Online
People always loved to play board games. And still do. It is funny, it trains useful skills, and helps to communicate. Enjoy the selection of the best tabletop games we've got. Invite your mates and start an epic tournament.
Tic Tac Toe
Tic Tac Toe is an all time game. The original version requires paper, pencils, and a friend. X and O take turns, conquering empty squares in a 3x3 grid. The one who manages to place three marks in a row, wins. This game is so old, the optimal strategies for each part to win exist. Check the updated versions of tic tac toe online on this page. For example, how about an expanded grid?
Monopoly on Kevin Games
Monopoly is so all the go. It is translated to 37 languages and is played in 103 countries. There are heaps of editions, merch, and spin-offs. Buy and trade property. Develop your empire, building houses and hotels. Collect rent from your opponents. Drive them to bankruptcy and try not to end up in jail.
Mahjong
Mahjong was invented in China. It is played by 144 tiles. Each has a beautiful symbol on. There are two kinds of Mahjong. A classic one is a multiplayer for 4 players. Another is a relaxing solitaire. If you like oriental-themed board games online (or want to try), look no more.
Dominoes
Old, but gold: dominoes is another tried-and-true game. It is also played with a set of tiles. They are known as dominoes, bones, or rocks. Each gaming piece is marked with dots or is blank. There are different types of domino games. Blocking is the most popular one. The goal is to get rid of your tiles while blocking the opponents'. Challenge a friend or a random stranger to play a set.
Other Popular Board Games Free
The list of cool games using a board is quite long. There are word games, card games, ludo, and so on. It is a nice combo of strategy, luck, and skills. All games are available both on PC and on mobile devices. You don't need to install an app. The content is virus-free and runs on all popular browsers. Have a nice time playing from all over the world!
---
We carefully selected 42 of the greatest Board Games and made them available for you online for free.
This archive consists of browser games for desktops and mobile platforms as well as titles specifically designed for tablets and phones. Here you will find some truly amazing gems like Dominoes, Wood Block Classic, Scuffed Uno, Chess Arena, Corn hole, and tons of other awesome free games.
---
Also people ask about Board Games
What are board games?

Board games are tabletops intended for groups of players. They often involve throwing dice, cards, and miniatures. Chess and Checkers are classic examples. Universes like Dungeons and Dragons involve role-playing imaginary characters.

What are the best board games for 2 players?

Chess and checkers aside, 7 Wonders: Duel, Agricola, and Magic the Gathering are solid 2-player options.