What are the most popular School Games?
What are the new School Games?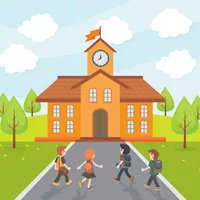 Play Free School Games Online
The industry of computer entertainment is so technologically advanced that the developers can do anything. Why do we keep recreating real-world environments when it's possible to build something completely different? Take a younger group of gamers – students, for example. They spend days in classrooms and crowded hallways. Yet they keep playing school games online. The reason is simple: relatability. Any work of fiction feels more immersive if we are familiar with its setting. Our real-life experiences translate into exploration of virtual worlds, making it more engaging. That's why hanging out with AI-generated classmates, and walking through 3D interiors is so entertaining. This way, you are free to lead a second life, parallel to your actual existence. What will it look like?
Multiverse of Education
Titles that explore this very specific setting represent a huge variety of genres. On Kevin Games, you can find puzzles, adventures, simulators, and even horrors featuring this theme. Travel to fantasy worlds where professors teach how to brew potions and cast magic spells. Get immersed in realistic simulators. They strive to provide an anxiety-free social experience for students. Sneak around dark hallways, empty gyms, and classrooms. Try to avoid monsters terrorizing the building. The options are so diverse, you can try them for days and never get bored.
Discover Fun School Games Free of Charge
Now that you get the idea, the question of where to find such titles arises. You've come to the right place: this setting is well-represented in our site's collection. Browse the appropriate category, read the descriptions, and see what you like. Every single entry is playable in a browser window – no installation required. Whether you prefer full-screen or windowed mode doesn't matter. Your keyboard and mouse will work. And don't worry: having hours of fun won't cost you anything.
Students don't have to imagine what their life in an alternate reality could look like. Play school games to challenge your perceptions and learn more about yourself in the process. Find new loyal friends, overcome incredible challenges, solve mysteries. And have extraordinary adventures. You will never look at your classroom the same way again!
---
We carefully selected 14 of the greatest School Games and made them available for you online for free.
This archive consists of browser games for desktops and mobile platforms as well as titles specifically designed for tablets and phones. Here you will find some truly amazing gems like Kogama School, Surze, City School Bus Driving, Monster School, Avocado puzzle time, and tons of other awesome free games.
---
Also people ask about School Games