What are the most popular Pool Games?
What are the new Pool Games?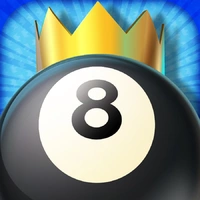 Play Free Pool Games Online
If you're into cue sports, you've come to the right page. We invite you to play pool games. They are really fun and gripping. Check the selection we've got. You're not only about to spend a few amazing hours. At the same time you'll get some really important skills of yours trained. Attention to details, real-world physics, accuracy - apply all you have. As they say, never give up until the last ball falls!
Pool It Together
First of all, this is not a separate game. It is more like a classification including a great variety of options. They all require a table, of course. The table, in its turn, is a special one. It has 6 pockets along the rails. That's why another name used to describe the category is the pocket billiards.
The Wildest Pool Games Online
Different variations of games have their own distinctive features. Here are the most frequently played ones. 8-ball is an absolute USA's leader of the category. Deposit all the balls of your suit. Then use the right kick for the black one (it has an 8 on).
During the 9-ball you can contact only the lowest-numbered ball. Your goal is to pocket the 9th one.
As for the One Pocket, it's all about strategy. Each player gets one of the corner pockets "assigned". Who is the first one having pocketed all the balls, wins.
This is far from the complete list! Try them all on Kevin Games and choose which one is your favorite. There are lots of cool versions, such as straight pool, Kelly pool, bank pool. And even the so-called artistic pool. In the latter, players compete making trick shots. Which can be quite difficult and spectacular.
Enjoy Pool Games Free
The best thing about browser billiards is they are free. All content here is virus-checked and totally safe. You can enjoy it from any place where there is an Internet connection. Plus, you're free to choose a device you like. It can be a laptop, a mobile phone, a tablet, or even a chromebook. Make sure you run a compatible browser, and go. Join the worldwide community of gamers. Challenge your friends and random strangers. Have a nice game!
---
We carefully selected 9 of the greatest Pool Games and made them available for you online for free.
This archive consists of browser games for desktops and mobile platforms as well as titles specifically designed for tablets and phones. Here you will find some truly amazing gems like Pool 8 Ball Mania, Pool Diving Extreme, 8 Ball Pro, Black Hole Billiard, Pool Club, and tons of other awesome free games.
---
Also people ask about Pool Games