What are the most popular Number games?
What are the new Number games?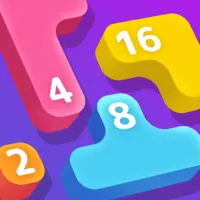 Play Free Number games Online
People tend to associate gaming with flashy colors, exciting adventures, and epic storylines. Anything that has to do with education is the last thing that comes to mind. Perhaps, this is due to the common juxtaposition of studying and recreational activities. However, it's unwise to underestimate how entertaining simple arithmetic and math can be. Contrary to popular belief, both desktop and mobile users play number games all the time. After all, RPGs, strategies, and even shooters are based on equations and formulas. The only difference is that they hide behind objects, characters, and actions on the screen. Meanwhile, dealing with actual numerals is akin to seeing the matrix. Forego all the unnecessary fluff and get to the very essence of entertainment. Add, multiply, connect, merge, and appreciate the beautiful elegance of various operations. Have a blast solving challenging problems or relax during casual playthroughs.
Infinitely Amusing
Those who look down on this category generally have a rather vague idea about it. If they actually gave a few titles a try, they would be pleasantly surprised. Kevin Games features the absolute best examples to satisfy the most demanding players. Sure, there aren't any firefights, running, or jumping involved. But the process can be incredibly stimulating and rewarding nonetheless. Before waving the genre aside, consider its numerous advantages:
A huge number of options, both traditional, like Sudoku, and modern, like 2048
Meditative gameplay with a focus on thinking rather than quick reflexes
Comfortable interfaces and controls that don't require any special finesse
Basic graphics that almost any device can handle with ease
This pastime serves as a perfect short-term distraction but also works for longer sessions. Start a round during the commute, do some tasks, and continue playing while on a break.
How to Access Number Games Online
Creating this type of product is considerably easier than building intricate sandbox worlds. There is no need to hire voice actors, level designers, or music composers. The tricky part is to come up with original mechanics. Implementing them is not that difficult. Since the development is not particularly expensive or resource-heavy, the resulting apps are usually very cheap. In fact, more often than not consumers don't have to pay anything at all. PC owners, for example, only need a capable web browser to run hundreds of entries. Search for them on popular aggregator websites, pick an intriguing thumbnail, and press Start.
Virtual experiences don't always have to be violent, visually overwhelming, and mind-numbing. Check out countless engaging and satisfying number games free of charge. They encompass an impressive number of playstyles ranging from super easy to very hard. Choose the desired variety and enjoy a delightful time while doing a mental workout.
---
We carefully selected 12 of the greatest Number games and made them available for you online for free.
This archive consists of browser games for desktops and mobile platforms as well as titles specifically designed for tablets and phones. Here you will find some truly amazing gems like Books With Numbers, Identical numbers, Hungry Number, Sudoku 30 Levels, 2048 number puzzle, and tons of other awesome free games.
---