What are the most popular Cube Games?
What are the new Cube Games?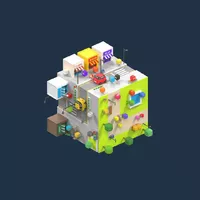 Play Free Cube Games Online
Online Cube games are a collection of cool adventures of different genres. Only 2 features played a key role when selecting the titles:
The presence of square-like elements
Top-notch content
These digital toys are popular among users, so we published them in 1 place. Easy to access, they're sure to keep your interest for quite a while. Ready to start?
The Mechanics That Make You Focus
Some toys are designed to make you think. And it's great when there are no timers to hurry you. In this way, you can analyze the challenge you face. And find the most optimal way out. You'll see labyrinth-like tracks, tricky traps, and dangerous obstacles. Don't let the algorithms lure you into clever ambushes! Be smarter.
Another adventure focuses on improving your objective-spatial skills. Move a brick on a squared field. Touch every cell to get rid of the first layer. Be careful at the edges: a misstep will send you to your death.
How to Play Cube Games and Improve Reaction Skills?
The answer is straightforward: practice with the right titles a lot. This collection has something special to offer. For example, Morphit gives you a simple task. Switch the main character to only 3 shapes: rectangular, square, and circle. If you do it in the right sequence, the round goes on. However, the speed will accelerate. It'll be more difficult to tap the necessary buttons. Challenging as it is, it's good training of your muscle memory.
Choose the Best Entertainment Website
It's possible to enjoy cube games free of charge. Follow this short instruction to do it:
Download a modern browser or upgrade the one you have
Come to Kevin Games and pick any virtual toy you like
Launch it and show off your skills without any registration
---
We carefully selected 11 of the greatest Cube Games and made them available for you online for free.
This archive consists of browser games for desktops and mobile platforms as well as titles specifically designed for tablets and phones. Here you will find some truly amazing gems like Rubek, Cube Flip, Morphit, Jump Cube, 2048Cubes.io, and tons of other awesome free games.
---