What are the most popular Evil Games?
What are the new Evil Games?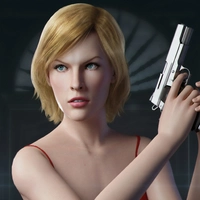 Play Free Evil Games Online
The Halloween season is one of the most exciting times of the year. Cold autumn evenings create a special atmosphere of mystery that many people look forward to. And, of course, to further enhance the mood they eagerly consume theme-appropriate content. For gamers that mean consciously seeking out spooky interactive adventures. That's why so many enthusiasts exclusively play evil games to honor the ancient holiday. Unfortunately, not all titles are a good fit for any age group. For example, survival horror is simply too scary and violent for kids. However, there are tons of viable alternatives suitable for younger audiences. Run away from terrifying creatures or help benevolent witches brew magic potions. Explore abandoned locations or prepare the house for the celebration with stylish decor. In this category there is something for everyone, so check it out and have fun.
Embracing the Darkness
When players want to tickle their nerves, there is no better medium than gaming. Sure, watching a thriller is pretty entertaining. But taking on the role of the protagonist provides a much deeper level of immersion. With that in mind, the experience does not necessarily have to be unnerving. Depending on the desired playstyle, Kevin Games users should consider the following genres:
Traditional first-person simulators featuring ghosts, monsters, and demons. Typically, the goal is to hide from them and escape unnoticed. The ammunition is usually scarce if present at all.
Casual dress-up and styling apps. The mission is to assist a character by picking out a befitting outfit. In this case, developers usually emphasize the gothic esthetics with extravagant colors and edgy accessories.
Miscellaneous puzzles with dark settings or generally ominous-looking elements. Move and match tiles depicting grinning pumpkins, vile abominations, or delicious treats. Overcome obstacles and kill enemies by thinking outside the box and utilizing problem-solving skills.
The resulting selection is diverse enough for anyone to find plenty of wonderful options. Try a few based on their screenshots, descriptions, and tags to have a great time.
How to Access Evil Games Online
Those who frequent this website know that it specializes in web-based computer entertainment. In other words, there is no need to download or install any files locally. Browse the catalog on any PC or mobile device, and click on intriguing thumbnails. The only prerequisite is having a capable Internet browser on board. Google Chrome is a solid choice, but Mozilla Firefox and Opera also do the trick. The controls depend on the specific entry but operate normally once the assets load. Certain studios add support for mouse and keyboard as well as touchscreen input. Experiment for a bit and decide which is more comfortable.
Matching the spirit of the occasion can be a challenging task. Bothersome preparations stress folks out and ruin the vibe. In order to get it back, enjoy evil games free of charge. Go on countless thrilling virtual journeys without a hassle and form vivid memories.
---
We carefully selected 4 of the greatest Evil Games and made them available for you online for free.
This archive consists of browser games for desktops and mobile platforms as well as titles specifically designed for tablets and phones. Here you will find some truly amazing gems like Evil Non Scary Horror Game Adventure, Miss Royal Beauty, Surze, Princess for Villain, and tons of other awesome free games.
---