What are the most popular Racing Games?
What are the new Racing Games?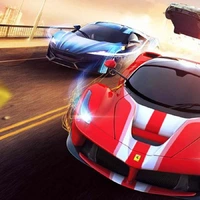 Play Free Racing Games Online
Do you like playing with others? Does the idea of competition inspire you and give more energy? Then you need to play racing games. All in all, the main mission there is to reach the finish line first. So, you have to be fast and nimble to become a winner.
The idea of playing
A race is a level of the game. It is limited either with time or distance – the number of meters. Also, there are games where these two points are combined. So, you have to finish the race as fast as possible. Moreover, some games suggest not only competing with other players, but dealing with challenges. It's necessary to overcome obstacles such as sharp turns, barriers, pits. Every participant gets points. If he comes over all challenges successfully and finishes first, he gets the highest score. Here is a hint. It's more interesting to be a racing-games' player online because there you'll have real rivals.
How to play
When you enter a game, you get a character. For example, a car or a small person. Moreover, you can find first-person games. However, you're still a character in a virtual world. You need to control your game figure. There are different ways of commanding. The first one is using arrow keys. The second way is pressing A, W, D and S. And the third one is dragging your mouse. However, characters can behave differently. Some of them may go towards and back or to the left and right. So, you use only two keys. But there are completely free characters as they move in all four directions. And it's possible to use combinations of keys. These ways of controlling characters are not the only ones, but common. Nevertheless, don't forget to read all necessary instructions before playing.
Where to find racing games free
Of course, it's more convenient to play online. Because you decide if you want to compete with others or enjoy completing levels alone. If you choose the first variant, you're allowed to communicate with other gamers. So, the process of playing becomes more "human". Here on Kevin games you'll find a large variety of races and they're exiting. Moreover, all of them are in a good quality.
To sum up, racing type of games has become popular. It brings adrenalin. And after playing them gamers feel active. People all over the world join online services and enjoy playing. Enter racing games online. And have fun either on your own or with other participants!
---
We carefully selected 144 of the greatest Racing Games and made them available for you online for free.
This archive consists of browser games for desktops and mobile platforms as well as titles specifically designed for tablets and phones. Here you will find some truly amazing gems like Road Racing, Bike Mania, Crash Racing, DashCraft.io, Canoe Sprint, and tons of other awesome free games.
---
Also people ask about Racing Games
How to play racing games with keyboard?

Press W and S or Up and Down to accelerate and decelerate. Use A and D or Left and Right to steer. Hit the Spacebar to brake.

How to play car racing games?

Select the vehicle from the available collection and start the game. Overtake all the opponents and be the first one to cross the finish line. Alternative game modes can have different objectives.