What are the most popular Airplane Games?
What are the new Airplane Games?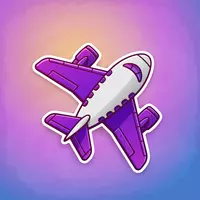 Play Free Airplane Games Online
Welcome on board of airplane games online. Fasten your seatbelts, get ready to go. Try to imagine something more epic than an airplane. Ok, there are some things. Still 500 tons of steel floating in the air are pretty cool. Have you always dreamt of operating a jet? Come and see what we've got on this page just for you.
Up To The Sky
This is quite a big category. It includes both cartoon arcades and realistic 3D simulators. There is building, shooting, operating, tricks performing involved. Get your reaction and logic tested and trained. Can you become a pro pilot?
Play Airplane Games With Friends
All the games are available on any type of device. Use a laptop, a mobile phone, a tablet. Play wherever you want. Share your records with friends. Challenge them to find out who's the best captain. These games can be played everywhere. No more boredom, you don't have time for it. The sky is waiting.
Try The Top Titles
Enjoy the top airplane games free of charge. We've got the most popular titles here such as Air Wars 2 and 3, Jet Rush, Space Battle, and others. You can operate almost all kinds of flying transports. Try a Boeing, a helicopter, a military jet, or even a space shuttle.
Sometimes it takes place in outer space. If that's where you want to go, check StarBlast.io. It brings you right to the asteroid belt. Get ready for an active shooting. You have to move quickly to collect all the crystals. Upgrade your ship to resist enemies' attacks. Check other Kevin Games. Make your own list of tops.
---
We carefully selected 17 of the greatest Airplane Games and made them available for you online for free.
This archive consists of browser games for desktops and mobile platforms as well as titles specifically designed for tablets and phones. Here you will find some truly amazing gems like Hexanaut.io, Enemy Aircrafts, Micro Pilots, Save Pilot, Starblast.io, and tons of other awesome free games.
---