What are the most popular Plane games?
What are the new Plane games?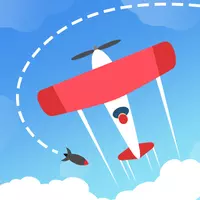 Play Free Plane games Online
Reaching the sky has been humanity's dream for thousands of years. It was achieved not so long ago and changed the world forever. So much has changed since the Wright Brothers' first flight. Humans have traveled to the moon and back. Millions of people soar through the air in giant machines with metal wings. Even after all these advancements, there's a new frontier to explore. In fact, there are more possibilities than ever, thanks to the development of virtual worlds. Modern audiences can have unforgettable experiences in plane games free of any restrictions. They never have to risk their lives, or the safety of their passengers. They get to participate in intense military operations while sitting in comfortable chairs. Become a skilled pilot controlling the most advanced aircrafts imaginable. Manage complex operations, departures, and arrivals as an air traffic specialist. A wide variety of entertaining simulators await.
Airplane Games for Every Kind of Player
Since this theme is extremely popular, developers have designed numerous titles around it. Sometimes they are accurate representations of real-life activities, other times – merely an homage. No matter the personal preference, Kevin Games features dozens of top-quality options:
Realistic flight sims with intricate controls and true-to-life graphics
Airport management strategies and business tycoons
Scrolling shooters with top-down and side-view perspectives
Physics-based puzzles and brainteasers for the most dedicated fans of the category
Trying them all out could take days. Fortunately, the best ones are easy to find. Make a choice, start a round, and get hooked for hours.
How to Access Plane Games Online
Computer entertainment has become so widespread that players don't even have to pay for it. Hundreds of engaging titles are available through web browsers and don't cost anything. They can even feature advanced visuals and complex mechanics. There's nothing modern hardware cannot handle even without any additional downloads and installations. Creators happily upload their products to have them on sites like this one. Fly across the world, deliver valuable cargo, or destroy hordes of enemies for hours.
Aviation is a fascinating subject that many professionals dedicate their lives to. Only a few lucky ones get to control the beautiful marvels of engineering themselves. Thankfully, anyone can play plane games in the comfort of their home. Time to forget about mundane troubles and go on a celestial adventure. Join the crew in the cabin, start the engine, and prepare for takeoff.
---
We carefully selected 7 of the greatest Plane games and made them available for you online for free.
This archive consists of browser games for desktops and mobile platforms as well as titles specifically designed for tablets and phones. Here you will find some truly amazing gems like Enemy Aircrafts, Fly THIS!, Air Force Attack, Cute Planes, Save Pilot, and tons of other awesome free games.
---