What are the most popular Motocross Games?
What are the new Motocross Games?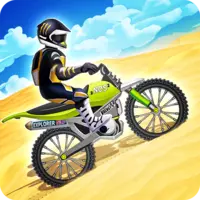 Play Free Motocross Games Online
All hobbies have their advantages but few things are as exciting as extreme sports. Driving in particular provides sensations that humans were never meant to experience. Although traveling at high velocities is very dangerous, people do it for that very reason. The feeling of adrenaline gets their blood pumping and takes their breath away. Unfortunately, this activity is associated with very real risks of injury and death. The best way to enjoy it without negative consequences is to play motocross games. These digital delights replicate the thrill in virtual environments without any possibility of harm. Listen to the roaring of the engine, and reach incredible speeds. Perform mind-blowing tricks in the air and land without an issue. Explore diverse tracks and cross the finish line before the opponents do.
Full Throttle
There are many kinds of driving simulators on the market. They can feature a variety of vehicles and have retro, contemporary and futuristic settings. But motorcycle racing is especially popular and forms its own category on Kevin Games. And despite being a relatively narrow niche, it encompasses several distinct genres, namely:
Side-scrolling trials where the player has to overcome various obstacles on the bike
Physics-based simulators where the goal is to climb steep hills and collect bonus items
Miscellaneous puzzles and casual titles with magnificent iron steeds as their centerpieces
The selection will satisfy both veterans and beginners of gaming by offering plentiful choices. Check them out and find out which playstyles are the most enjoyable.
How to Access Motocross Games for Free
The aforementioned options are usually very well-optimized and widely available over the internet. They run well both on desktops and mobile devices without requiring any advanced tinkering. To launch them, simply open this page in a popular browser, like Chrome or Firefox. Browse the assortment and click an intriguing thumbnail. Wait for the menu screen to load inside the dedicated frame, and press Start. From that point on, follow the instructions displayed on the screen. In case of stuttering or subpar performance, enable Hardware Acceleration in the settings.
Millions of gamers stick to what they know and never go outside their comfort zones. The only way to avoid missing out is to give new things a chance. Try dozens of top-quality motocross games online without installing them locally. Soar like an eagle after jumping off an insane ramp. And land smoothly. Hit the gas and ride away leaving only a cloud of dust behind.
---
We carefully selected 8 of the greatest Motocross Games and made them available for you online for free.
This archive consists of browser games for desktops and mobile platforms as well as titles specifically designed for tablets and phones. Here you will find some truly amazing gems like Crazy Desert Moto, Among Hill Climber, Bike racing, Motocross Drivers Jigsaw, Mega Ramp Stunt Moto, and tons of other awesome free games.
---