What are the most popular Tractor Games?
What are the new Tractor Games?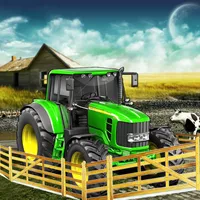 Play Free Tractor Games Online
A road full of potholes and a lot of heavy work to do... Sounds like a job for a serious vehicle. Play tractor games and see what this indispensable truck can do. Drive it not only in the countryside but also in the city. Rattle on your way to fulfill missions, gather in-game currency and buy upgrades. In short, live a life of hard-working metal characters and solve their everyday problems.
Pip-pip: Start the Engine!
Kevin Games has prepared a whole page with the best farm-themed titles. Although each one is unique, it is possible to group them into 2 categories:
First-person adventures
Here you literally drive a truck. Usually, a keyboard and a mouse are required. Be it WASD or arrows, you decide where to go and what to do. They also offer a variety of interesting missions. For example, cultivate a field or tow a trolley full of cargo to its destination. Don't forget to securely attach a cultivator or a trolley to your drawbar. Otherwise, it will look hilarious.
Third-person browser toys
Although you look at your character from the side, it isn't less interesting. Usually, your objective is to avoid turning upside-down or to keep your cargo safe. Or both. Experience rough roads, conquer steep hills, and enjoy top-class visuals!
Tractor Games Free: Features That Attract
Playing without an ambitious and hard-to-achieve goal is a waste of time. Luckily, our picks don't have such a problem. Pick any on-screen toy. Each one is a new set of tasks. They lead you to a greater reward step by step. For example, accumulate enough cash and buy a new model with cool characteristics. Or gain experience and open a new level with even more crazy tracks.
In the same way, a virtual world is boring without thought-through details. Find them in abundance in our titles. If it is a city, there are well-drawn buildings, road markings, and traffic lights. If you are in the mountains, there is danger everywhere. For instance, rockfalls or cliffs.
Turn on Your Brains
Are you a fan of farm vehicles and mental puzzles? Find an adventure to your taste on our website. Pit your wits against tricky missions and advance your logical thinking. There are a lot of opportunities to hone your skills. Just embark on a journey that suits you best.
Some tractor games online even offer you to compete with real players! Show off your rat-like cunning and trick your opponents. In short, the list is a collection of all kinds of entertainment options. What will you choose? A tip: it doesn't have to be just one title. Try several or all of them!
---
We carefully selected 8 of the greatest Tractor Games and made them available for you online for free.
This archive consists of browser games for desktops and mobile platforms as well as titles specifically designed for tablets and phones. Here you will find some truly amazing gems like Real Tractor, Farming Town, Farming Town, The Farmers, Puzzle Tractor Farm, and tons of other awesome free games.
---