What are the most popular Dirt Bike Games?
What are the new Dirt Bike Games?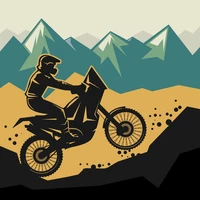 Play Free Dirt Bike Games Online
A good simulator brings you all the joy of a real life process. It gives you a chance to do some cool stuff you've never tried before. At the same time you don't have to spend money. Or go to unknown places and risk your health and life. All of this relates to dirt bike games online.
No Speed Limits On This Road
There is nothing similar to being the best at a racetrack. Try it once, and you'll want more. Luckily, there is a great choice of browser racing games. You may transform into a cartoon character to get crazy at 2D tracks. Or try a 3D one. Create your own style, add some backflips and jumps.
Are Dirt Bike Games Free?
The games collected on this page are all free-to-play. Just a few clicks separate you from furious pace, splashes of dirt, and roars of motors. Choose a game, press Start, figure out how to control your character. There will be clear instructions. The race begins as soon as you're ready for it.
The games are available for all types of devices: laptops, tablets, mobile phones. You won't get any viruses. Content is checked by our team.
How to Play Dirt Bike Games
Your task is usually to cross the finish line. It turns out to be a tough one. Get ready for moving platforms, massive ramps, insane rivals, and other obstacles. There can also be some tokens to collect. Don't hope for a smooth highway. It is nothing but dirt and overfalls. So get ready for some rough terrain to become a real dirtbiker.
Everything that is great about bike racing is here, on this page. Kevin Games' set challenges your reflexes and instincts. Find out now if you're a natural born racer.
---
We carefully selected 4 of the greatest Dirt Bike Games and made them available for you online for free.
This archive consists of browser games for desktops and mobile platforms as well as titles specifically designed for tablets and phones. Here you will find some truly amazing gems like Moto X3M Spooky Land, Moto X3M Pool Party, Moto X3M Winter, Moto x3m, and tons of other awesome free games.
---
Also people ask about Dirt Bike Games
What are dirt bike games?

Dirt bike games are simulators where the player controls all-terrain motorbikes. For example, Moto X3M is a 2D side-scrolling moto-trials simulator. Play it online on Kevin Games without installation.