What are the most popular Halloween Games?
What are the new Halloween Games?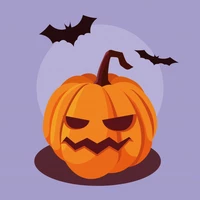 Play Free Halloween Games Online
Tons of candies, striking costumes, creepy decorations… You know what's this about! One day a year seems not enough. If you agree, then check this awesome selection of halloween games free. They will bring you all the joy of the original holiday. Trick or treat? Give us everything at once.
Have A Spooky Time
This theme is loved by gamers of all ages. No wonder, though. It has an outstanding vibe. Like when you are pretty scared... and still want more. Plus, compared to films and comics, browser games are interactive. Which means you're in the very centre of things. You may walk, sing, communicate, deal with tasks. Cool graphics and audio make it more real than ever. So give up your routine, and join the neverending celebration.
Best Halloween Games Online
This category covers many genres. Seems fair. Lots of preparations are a solid part of the festival. As well as numerous activities which make it so special. How would you like to spend time? If you're in a peaceful mood, try cooking simulators or dress-ups. Decorate the room or a whole castle. Prepare some tasty dishes for your guests.
More On Kevin Games
No cooking for today? This page has a lot more to offer. Armies of monsters are waiting for your attack. Destroy zombies, aliens, and mutants of all kinds. Are you more into ghost stories? Explore the world of chiller thrillers. Solve mysteries, save lives, beware the undeads. Feel free to eat a candy (or two) during your short break.
Play halloween games on your PC or mobile device. Enjoy the experience and share it with your mates!
---
We carefully selected 43 of the greatest Halloween Games and made them available for you online for free.
This archive consists of browser games for desktops and mobile platforms as well as titles specifically designed for tablets and phones. Here you will find some truly amazing gems like Spooky tripeaks, Halloween chibi, Kill the monsters halloween, Halloween couple, Spooky Bubble Shooter 2, and tons of other awesome free games.
---