What are the most popular Xmas Games?
What are the new Xmas Games?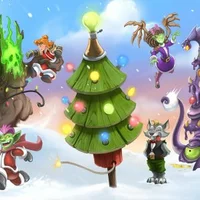 Play Free Xmas Games Online
Many people consider Christmas the most wonderful time of the year, and rightfully so. Along with dark nights and beautiful snowy landscapes, it brings a magical atmosphere and mood. The spirit of kindness, caring, and cheer follows kids and adults wherever they go. But the holidays wouldn't be the same without appropriately themed entertainment. While most gravitate towards movies and shows, some prefer indulging in Xmas games online. Set in winter, they capture the coziness and the wholesomeness of the season. Participate in epic snowball fights, and sled down steep hills. Join Santa in his workshop and deliver presents to children around the globe. Or simply explore magnificent wintry environments without leaving the comfy chair.
December to Remember
The festivities wouldn't be as enjoyable if it wasn't for the exciting experiences they provide. Sadly, doing something new every day is taxing in terms of time, money, and energy. By contrast, partaking in diverse activities in the digital realm is a lot easier. Kevin Games carries numerous titles inspired by the New Year's Eve in the following subgenres:
Puzzles and brain-teasers featuring Santa and his little helpers
Point-and-click adventures that take place around Christmas
Platformers and side-scrollers with snow-white backdrops
Miscellaneous matching and merging apps that revolve around combining gift boxes, sugar canes, and decorations
In this category, there is something for everyone. Players young and old can quickly find plenty of options to suit their taste. And on this website, it won't even cost them anything.
How to Play Xmas Games Without Downloads
It's only fitting that the coldest and darkest months call for giving and generosity. To honor tradition, many developers decide against charging consumers for their products. Instead, they spread happiness by openly publishing their works on content aggregation platforms. This page contains many amazing electronic delights to choose from. Access them via Chrome or Firefox by clicking on any of the thumbnails. Once the main menu loads, press Start, and begin having fun. Don't forget to disable ad blocking plugins to support the creators.
In this day and age, few can afford to relax by a warm chimney. Thankfully, almost everyone has a computer or a smartphone in their possession. Enter awe-inspiring virtual worlds and go on unforgettable journeys together with merry characters. Check out dozens of free Xmas games without installation and have a blast.
---
We carefully selected 4 of the greatest Xmas Games and made them available for you online for free.
This archive consists of browser games for desktops and mobile platforms as well as titles specifically designed for tablets and phones. Here you will find some truly amazing gems like 10x10 Winter Gems, Parkour Block Xmas Special, Santa Gifts Rescue, Snaklaus, and tons of other awesome free games.
---