What are the most popular Ragdoll Games?
What are the new Ragdoll Games?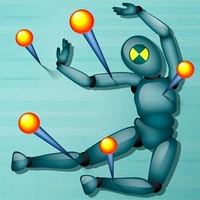 Play Free Ragdoll Games Online
Feeling like a true master of puppets? Try ragdoll games online! We've got a nice selection here, on this page. Enjoy the perfect combo of real-life physics, dramatic plots, and awesome graphics.
Available On Any Device
Choose from a wide range of options on Kevin Games. Pull the tennis court apart in Ragdoll Tennis. Run a mile in Ragdoll Runners. Save the population in Spiderman City Raid. Play volleyball, run a motocross, fight on a ring - do whatever you want.
Explore the category of ragdoll games free and safe. You don't have to install anything or create an account. Use any device you prefer, including Chromebook. Invite your friends to play together. Or maybe you'd dare to challenge the world's best gamers?
How To Play Ragdoll Games
You're about to operate a drifting dummy. It may look like a human, an animal or some made-up creature. Depending on genre, the titles differ from aw-cute to omg-creepy. Same for the dolls. Tasks also vary. Sometimes the goal is just to keep the poor thing safe. The other time you make it do some serious movements. Follow the instructions given before the start on how to control your character. Have a nice game!
---
We carefully selected 7 of the greatest Ragdoll Games and made them available for you online for free.
This archive consists of browser games for desktops and mobile platforms as well as titles specifically designed for tablets and phones. Here you will find some truly amazing gems like Milk Crate Challenge 3D, Ragdoll Archers, Fall Beans, Drunken Boxing, Ragfoll soccer, and tons of other awesome free games.
---
Also people ask about Ragdoll Games