What are the most popular Dog games?
What are the new Dog games?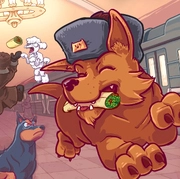 Play Free Dog games Online
Not many things in life can compare to gaming. Traveling to wonderful fictional worlds, far away from the troubles of reality is liberating. The player's character is almost always the center of attention in any universe. However, there is another source of unconditional love that never gets old. Pets, humanity's cute furry companions, always make things better and lift the mood. At some point, software developers decided to combine the 2 and achieved perfection. These adorable subjects make dog games free of any negativity and cynicism. No matter the challenges, the innocent creatures deserve all the help they can get. Join them in their quests and overcome every obstacle to complete various tasks at hand.
More Legs – More Fun
Choosing everyone's favorite canine companions as a theme doesn't limit the mechanics in any way. Titles featuring them are very popular on Kevin Games and represent many different genres:
Their running, jumping, and crawling skills are a natural fit for platforming
Finding matching pictures of them in the deck is a great memory training exercise
Solving puzzles becomes even more enjoyable when sweet little puppies are involved
Taking care of pets in animal grooming simulators is extremely rewarding
Various real-life breeds are well-suited for specific tasks. Hunting, parkour, stealth, and other activities are all great options for different playstyles.
Where to Find Dog Games Online
Looking for a particular kind of entertainment on the Internet can be frustrating. While AAA titles are available in various stores, something more niche is usually not. Things get even more complicated when money is an issue. Thankfully, nowadays many creators don't mind putting their products out there for free. Use this site to discover hundreds of suitable choices. There is no need to pay for any of them, and it's absolutely legal. Run actions, side-scrollers, and adventures in a browser tab without installation.
Virtual experiences with the friendliest and most loyal pets at the center never disappoint. It's truly a match made in heaven. Play dog games and discover new ways to appreciate their company. Beautiful huskies, smart retrievers, sweet corgis, and other breeds await. Take care of them and have a delightful time in the process.
---
We carefully selected 7 of the greatest Dog games and made them available for you online for free.
This archive consists of browser games for desktops and mobile platforms as well as titles specifically designed for tablets and phones. Here you will find some truly amazing gems like Dogy Kangaroo Jumping, Lovely Virtual Dog, Dog Racing, My Cute Dog Bathing, Poisonous Planets, and tons of other awesome free games.
---
Also people ask about Dog games
Games where you play as a dog

Bolt, Dog's Life, and The Dog Island have dogs as their protagonists. There are 2 noteworthy online options: Dogy Kangaroo Jumping and Poisonous Planets. Play them on Kevin Games without installation.

Games where you take care of a dog

My Cute Dog Bathing and Lovely Virtual Dog are pet grooming simulators that specialize in canines. They are available on Kevin Games for free.