What are the most popular Soccer Games?
What are the new Soccer Games?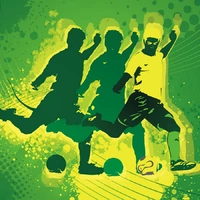 Play Free Soccer Games Online
Team sports are fun, but we don't always have enough time to enjoy them. Playing soccer games online is a great alternative. Starting a friendly match is as easy as pressing a button. Select one of the world-famous teams to play for. And compete against a rival club. Challenge other gamers or try to beat the computer on the hardest difficulties. Master the art of controlling the ball, making passes. And tricky combinations in a virtual environment. Participate in international competitions, and lead your country to victory. Will you be able to overcome every challenge and win the World Cup?
Football Games for Every Kind of Player
This category features a huge variety of sub-genres. The sport involves not only physical activity. But also strategy, teamwork, and infrastructure. If you're not fond of fast-paced gameplay, maybe managing clubs is a better match. Perhaps, you're looking for a realistic simulation of what it's like to be a goalkeeper. Or maybe you want something crazy, like driving cars on the field, instead of running. No matter what you're looking for, Kevin Games has got you covered. If you browse our collection, you will never run out of options. Find something tailored to your taste. And explore similar titles suggested by the site.
How to Play Soccer Games
The controls may vary depending on the playstyle, but the rules remain the same. The field is split in two – half for each team. The objective is to kick the ball into the opponent's goal. Sounds easy, but achieving that takes a lot of effort. Your rivals will try to take the ball away and score themselves. Never let your guard down, and don't rely on luck. Make strategic passes. Find weak spots in the enemy's defense, and exploit them.
If you are a fan of the genre, you've come to the right place. Here you can discover dozens of soccer games free of charge. Try them all one by one. Pick your favorites, and keep searching for more. Teams, players, and stats get updated every month. There's always something new on the horizon. The developers follow the latest trends and try to keep up. Meanwhile, you get to sit back and have fun scoring the most spectacular goals imaginable.
---
We carefully selected 11 of the greatest Soccer Games and made them available for you online for free.
This archive consists of browser games for desktops and mobile platforms as well as titles specifically designed for tablets and phones. Here you will find some truly amazing gems like World Cup, Pocket League 3D, Fiveheads Soccer, Football Heads, Penalty Shootout Multi League, and tons of other awesome free games.
---
Also people ask about Soccer Games