What are the most popular Winter Games?
What are the new Winter Games?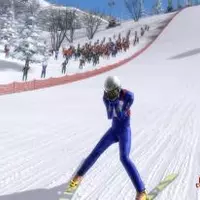 Play Free Winter Games Online
Season-appropriate entertainment is a perfect way to create a fitting atmosphere. This is especially important during the holidays. Millions of people have their own go-to movies and TV specials they like to rewatch. However, general audiences have not yet developed a similar appreciation for interactive adventures. Meanwhile, there are tons of amazing winter games online to fit the occasion. Visit wonderful virtual recreations of frosty forests and valleys. Do some decorating and housewarming in the company of friendly NPC companions and other users. Take up skiing, snowboarding, and participate in epic snowball fights. The possibilities are endless. This overview will introduce newcomers to the category by showcasing some of its noteworthy subgenres.
Let It Snow
One of this theme's major advantages is how comprehensive and diverse it is. It encompasses all kinds of engaging activities and amusing pastimes. And their digital versions are often just as fun, but way more accessible. Kevin Games has the following subcategories to choose from:
Sports simulators ranging from ice-skating to sledding
Survival sandboxes that structure their mechanics around cold weather
Classic platformers, side-scrollers, and shooters with snowy environments
Miscellaneous puzzles, brain-teasers and casual apps with the same setting
Evidently, there is a wide variety of options to suit any taste and age bracket. Players can either stick to what they know or experiment and discover new exciting playstyles.
How to Play Winter Games Without Downloading
Large companies like to capitalize on the demand for celebratory experiences. They charge outrageous prices, knowing full-well that many consumers won't think twice about paying them. But the truth is, the public is simply unaware of numerous cheaper alternatives. This website features an entire collection of titles that fit the bill and cost nothing. To enjoy them, browse the catalog in Chrome, Firefox, or another popular browser. Click on any thumbnail to launch the web-friendly build without installing any additional software.
Preparations for festivities can be quite stressful and anxiety-inducing. Getting in the right mood in such a hectic state of mind is problematic. Check out dozens of delightful winter games for free and take some pressure off. Sit back and relax by a cozy chimney with a cup of hot chocolate. Or explore the great outdoors and marvel at beautiful wintertime landscapes. Feel the magic in the air, restore some energy, and have a fantastic time.
---
We carefully selected 8 of the greatest Winter Games and made them available for you online for free.
This archive consists of browser games for desktops and mobile platforms as well as titles specifically designed for tablets and phones. Here you will find some truly amazing gems like Monster Truck 3D Winter, Snow Battle, Penguin Hop, Ultra Pixel Survive Winter Coming, Adventure Joystick Winter, and tons of other awesome free games.
---