What are the most popular FNAF Games?
What are the new FNAF Games?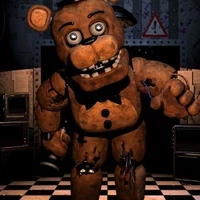 Play Free FNAF Games Online
Five Nights at Freddy's was released in August 2014. It immediately stirred up the world of video games. What is so special about this indie horror?
Five Nights at Freddys: The Beginning
The game was designed by Scott Cawthon. The american developer created this piece after having his previous game shattered. Gamers called his characters "unsettling and animatronic-like". One of the reviews described Chipper & Sons Lumber Co as "terrifying". Not only did the author survive all this hate, but he used it for inspiration.
He took the idea of a cute family restaurant turning into a nightmare. Instead of classic screamers he harped skillfully upon our fear for the unknown. This was a success, a real cult-gainer. Today it is available on almost any platform. And, besides real FNAF games there are a huge number of tributes and remakes. Some of them even got promotion from The Fazbear Fanverse Initiative created by Cawthon.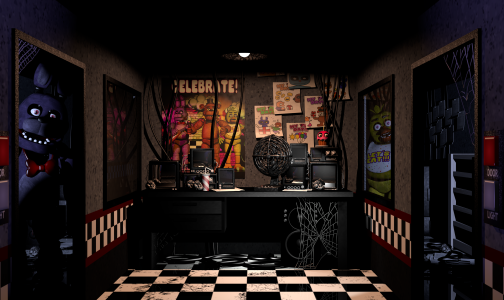 Welcome on board of a made-up family restaurant called "Freddy Fazbear's Pizza". Your name is Mike Schmidt, you're a new night security guard. This silent creepy room with cameras is your office. The guy whom you're about to replace left four voicemails for you. He did that to explain to you the petrifying aspects of your job.
Your goal is to survive five night shifts. These nights are the five levels of the game. The shift lasts from midnight till 6 a.m. The restaurant's four animatronics: Freddy Fazbear, Bonnie, Chica and Foxy - will try to kill you. Every night they become mobile because the other way their mechanisms would lock up. If they meet a human after hours, they take him for an endoskeleton without a costume. To make things right they force him into one. Obviously, it's lethal.
How To Play FNAF Games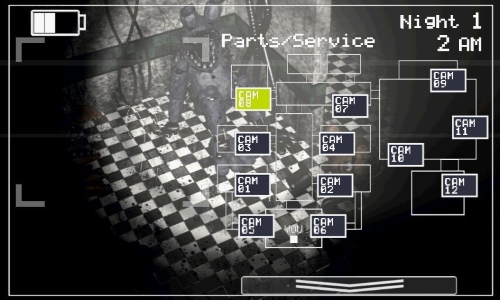 Here's a how-to-play for the first part of the franchise. Use a network of security cameras to see the dislocations of your enemies. The network provides you with views of the restaurant's parts. The equipment is far from being perfect. Camera feeds are badly lit, the picture is quite grainy. One of the cameras is capable only to air the audio. Some areas of the building are not covered at all. Still, this is all you've got to protect yourself.
Each animatronic has its own pattern of movements. Most of them move only when you can't see them though. Plus, there are two corridors not shown at the cameras' displays. So you need to check them using the lights. Remember: the use of lights consumes the limited electricity. When it's over, the cameras turn off and the lights turn on. But what is worse is the doors open. As you can guess it means they're coming for you, and nothing will stop them.
Extra Levels In Free FNAF Game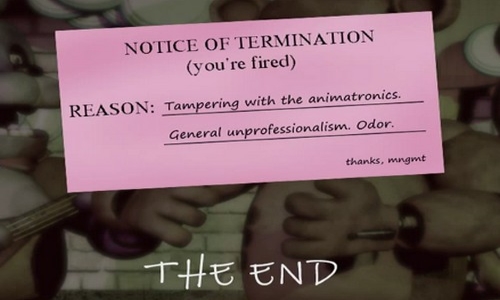 Every newlevel is harder than the previous one. If you manage to survive all five nights, you unlock the sixth level. Having completed this, you get a seventh "custom night". It gives you a freedom to tune the animatronics' artificial intelligence. After the seventh night you - luckily! - get fired.
Online FNAF Games: A Real Fever
The survival horror with a twisted plot gave rise to an expanded franchise. It includes several sequels, a spin-off, a few written books, and tons of merch. From its release in 2014 till today people are obsessed. In addition to the official series, a flurry of imitations and DIY-games appeared. Let alone the endless "lets plays" and newest investigations on Youtube. Gamers try to solve all the mysteries, searching frantically for easter eggs and finding them.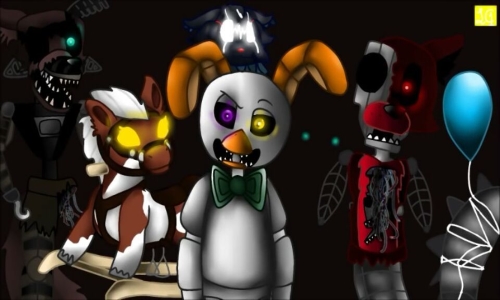 Find here the unblocked FNAF games - including the latest updates - and play them free. Explore a gloomy, yet strangely charming universe of the doomed pizza spot. There might be the first time you'll be happy to get fired.
---
We carefully selected 12 of the greatest FNAF Games and made them available for you online for free.
This archive consists of browser games for desktops and mobile platforms as well as titles specifically designed for tablets and phones. Here you will find some truly amazing gems like FNAF Security Breach, FnaF Tank, FNAF 3, Friday Night Funkin' Nights at Freddy's, FnaF Shooter, and tons of other awesome free games.
---
Also people ask about FNAF Games