What are the most popular Ship games?
What are the new Ship games?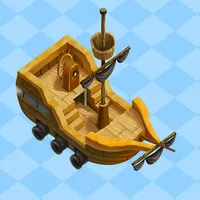 Play Free Ship games Online
The ship games online category is a collection of adventures dedicated to sea vessels. United by the same topic, they share only 1 similarity. They have top-notch visuals, simple gameplay, and highly hooking content. Short sessions make them interesting even after a few tries.
When the Adrenaline is High
What can one possibly do with vessels? Right, start a war! The Battle Ships is a classical adventure in a new digital format. Allocate your units on a 10x10 grid and prepare for a lot of shooting. It's a turn-based strategy, in which intuition and logic are the most important weapons. Launch missiles and blow up the opponent's fleet to win!
Another title is full of fast-paced action. In the Police Boat Chase, you are a criminal, trying to escape justice. Speed up on your cutter, maneuver through multiple enemies and collect cash on the way. The upgrade system won't leave you disappointed.
Play Ship Games and Make In-Game Money
Vessels can also serve good purposes. For example, one can earn money by organizing a smart business in the Merge Ships. Make small trips for tourists, catch fish, and transport passengers with huge liners. Of course, nothing comes easy. Start with a couple of simple boats. Invest the resources wisely, upgrade your fleet and build a real empire. Improve your management skills and enjoy the process.
Content for Meditations
Want to chill out with less action-rich tasks? Try the Cargo Ships Jigsaw. It's a collection of puzzles with lots of picturesque images. Collect elements together. Take your time to think. Proceed to the hardest level with 100 pieces to assemble. Complete pictures one by one and unlock more on your way.
Find other engaging titles in the category and enjoy ship games free of charge. They are browser-based and require no installation to have fun! Come to Kevin Games and find the entertainment option to your liking.
---
We carefully selected 15 of the greatest Ship games and made them available for you online for free.
This archive consists of browser games for desktops and mobile platforms as well as titles specifically designed for tablets and phones. Here you will find some truly amazing gems like Battleships Armada, Battleship, Cargo Ships Jigsaw, Cruise Ships Memory, Water World, and tons of other awesome free games.
---