What are the most popular Tank Games?
What are the new Tank Games?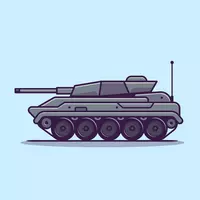 Play Free Tank Games Online
Peaceful times can make us way too relaxed. A true soldier is always ready. There is a good way to stay in tone. We've got a whole load of tank games online. Practice your battle skills, strategy thinking, reaction. Ready? Climb inside a steel beast!
Take part in as many battles as you want. Don't get too distracted by beautiful locations. You need to stay focused as the war never really stops. All cannons are loaded. Enemies don't give a second chance.
Play anywhere you want. These games turn any place into a battlefield. Just imagine yourself operating 55 tons of steel. It can destroy a whole building with one shot. Share your records with friends and other players. Challenge them to see who's the best.
Available On Any Type Of Device
We want you to enjoy tank games free of charge. Use any kind of device (laptop, tablet, phone). All the content is checked and safe. In this category there are options for those who prefer realistic 3D shooters. And here are some catching cartoon arcades. You don't have to spend money to play any of them.
How To Play Tank Games
It depends on the type of the game. It can be a true to life first person simulator, having a presence effect. Or it can be a classical third person platformer. There are also multiplayers to get into a fight with your mates. Before you start playing there will be instructions. Follow them. Also, you may read the description of each title for some tips and tricks.
Explore the world of tanks with Kevin Games. Become a winner.
---
We carefully selected 23 of the greatest Tank Games and made them available for you online for free.
This archive consists of browser games for desktops and mobile platforms as well as titles specifically designed for tablets and phones. Here you will find some truly amazing gems like Multi Tank Battle, Bist.io, City Defender, Stug.io, Tuggowar.io, and tons of other awesome free games.
---