What are the most popular Kingdom Games?
What are the new Kingdom Games?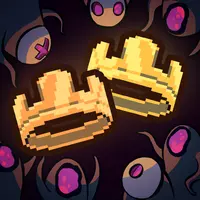 Play Free Kingdom Games Online
The modern gaming industry is focused on constant innovation and the evolution of ideas. While this approach produces impressive results, the developers often forget about existing effective solutions. It's always smart to follow current trends, but relying on them completely is unwise. Sometimes, going back and appreciating the practices of the past is just as important. Certain design choices established by classic platformers became popular for a reason. That's why it's a good idea to play Kingdom games despite the abundance of alternatives. This series of side-scrolling adventures pays an homage to the iconic genre without feeling outdated. Take on the role of a ninja warrior exploring medieval castles. Collect all the gems and avoid dangerous traps to reach the exit. Perform incredible feats of agility to complete the whole storyline.
Ultimate Challenge
This franchise draws inspiration from its predecessors renowned for their difficulty and unforgiving nature. However, it does so without losing sight of the progress made since then. Today's audiences often forego older products because of how unnecessarily frustrating they were. In this case, the developers eliminated said frustrations and concentrated on the essential elements. The resulting experience is one of the most appealing on Kevin Games for many reasons:
Responsive controls ensuring absolute precision of movement
Simple graphics with a fun style and easily distinguishable details
Dozens of handcrafted levels with unique layouts
Energetic soundtracks with memorable themes.
The stages are never too vast and take only a couple of seconds to traverse. However, it's almost impossible to succeed without dying at least once. Study the enemies and their patterns, navigate the surroundings masterfully, and achieve victory.
How to Access Kingdom Games Online
Each chapter in the anthology is available in the form of an in-browser app. Open its dedicated page in Chrome or Firefox and wait for the frame to load. Press Start and enjoy the full version without any limitations. No downloads or installations are necessary. Activate the full-screen option to make the process more convenient. Use the keyboard to run and jump, just like in any normal title.
Have a blast playing through the entire collection of Kingdom Games free of charge. Assist the masked protagonist on their quest using ancient techniques of movement and combat. Become a swift shadow going through corridors riddled with traps and obstacles unnoticed. Find all the bonus items and show the best time possible.
---
We carefully selected 6 of the greatest Kingdom Games and made them available for you online for free.
This archive consists of browser games for desktops and mobile platforms as well as titles specifically designed for tablets and phones. Here you will find some truly amazing gems like Kingdom of Ninja 3, Kingdom of Ninja 7, Kingdom Defence, Kingdom of Ninja 4, Kingdom of Ninja 6, and tons of other awesome free games.
---