What are the most popular Sea Games?
What are the new Sea Games?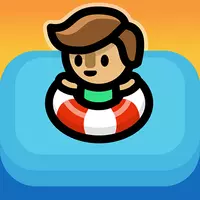 Play Free Sea Games Online
Humans have always been fond of exploring their surroundings. Despite the inherent danger, their curiosity always gets the better of them. At this point, adventurers have already mapped the entire globe. However, there are still countless uncharted zones in the expanse of the ocean. Sadly, venturing into the unknown is a risky and expensive undertaking. But at least there are plenty of great sea games online to scratch that itch. They offer a fascinating insight into marine ecosystems. Soak up the wonderful atmosphere of underwater environments. Make friends with their dwellers and save them from extinction. Discover unimaginable treasures on sunken ships and solve numerous mysteries along the way.
Magnificent Depths
Due to the vastness of the subject, this theme allows for incredible variety. It encompasses a huge number of genres. Any title qualifies, as long as it has the appropriate setting. Kevin Games features several subcategories that fit the bill, namely:
First- and third-person aquatic simulators that involve survival and crafting aspects
Classic side-scrollers and metroidvanias that take place in the blue abyss
Puzzles and brain-teasers where water physics affect the gameplay
Miscellaneous graphic adventures and casual apps with fitting aesthetics
The resulting range of choices is wide enough to satisfy all kinds of gamers. Some provide memorable solo experiences, while others focus on fun multiplayer modes. Regardless of an individual's age and background, they will easily find something suitable.
How to Play Sea Games Without Downloading
Thanks to modern web-technologies, accessing the aforementioned options is fairly straightforward. These days, developers can publish their products on regular Internet pages. Users don't have to launch any installers or unpack shady archives to start the playthrough. Instead, they can browse this website and click on any thumbnail that piques their interest. The contents should load right in the tab. To avoid potential issues, use Google Chrome, Mozilla Firefox, or another popular browser. And consider disabling ad-blocking plugins to support the creators.
Delve deep into the mind-blowing world of fish, algae, and coral reefs. Take a stroll along the seabed as an aquanaut, or as an extraordinary saltwater creature. Enjoy dozens of amazing sea games for free and have a fantastic time.
---
We carefully selected 3 of the greatest Sea Games and made them available for you online for free.
This archive consists of browser games for desktops and mobile platforms as well as titles specifically designed for tablets and phones. Here you will find some truly amazing gems like Sea Rush, Match the pic, Clean The Earth, and tons of other awesome free games.
---