What are the most popular Treasure games?
What are the new Treasure games?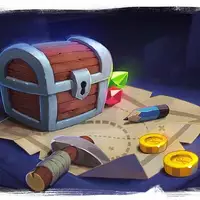 Play Free Treasure games Online
Feeling bored, we all turn to online adventures. One category of titles is worth mentioning in particular. Play treasure games during the break at school, work, or from a cozy home sofa. Why are they special? First of all, they're all about clever riddles. To get the in-game gems or coins, you need to think and improve your logic. It's challenging and entertaining at the same time! Secondly, they consist of short sessions that won't get on your nerves. Sounds enticing?
Slow-Paced and Meditative
Fans of romantic plots are sure to like Love and Treasure Quest. It reveals the story of a brave knight who deals with hard decisions every day. Solve numerous puzzles to get to the pile of gems. Save the princess from treacherous goblins. Use the environment to neutralize them, such as:
lava
a huge rock
a deep hole
Each level is a conundrum, with only 1 correct course of action. Analyze the variables you get, and try different combinations to get to the victory. Once you get enough finances, start building your own kingdom! Stuffed with content, the toy is sure to hook you for a couple of hours.
Treasure Games Online: Match 3 Genre
This is another adventure that is relaxing in nature. In Treasures of the Mystic Sea, your goal is to swap tiles. Form sequences of at least 3 identical items. Coming from level to level, you have 1 objective: get rid of yellow tiles. Some of which can be blocked with chains or locks. Find a way to overcome this difficulty. Use boosters to improve your chances of winning. Learn to deal with the timer that can get on the nerves sometimes. Unlock new places on the map. Keep completing rounds to experience the benefits the title has to offer.
Run, Fight, Win
Do you like action? There's a special adventure in the collection. Called Find the Treasure, it's a platformer with coins hidden around you. Jump over platforms and grab them all. However, they're guarded by all kinds of monsters. For example, annoying bats. Use your arrows to shoot them down. Or hit them with bare hands. Don't get lost in the labyrinths of platforms. And most importantly, don't ignore the wooden boxes. They hide some bonuses (an additional coin or a heart to heal).
Want More?
There are other toys with top-notch graphics and engaging content. Enjoy treasure games free from registration. They are browser-based and run without downloading. Just like any title on Kevin Games. Come and check!
---
We carefully selected 5 of the greatest Treasure games and made them available for you online for free.
This archive consists of browser games for desktops and mobile platforms as well as titles specifically designed for tablets and phones. Here you will find some truly amazing gems like Treasure Knights, Find the Treasure, Aztec Cubes Treasure, Love and Treasure Quest, Treasures of the Mystic Sea, and tons of other awesome free games.
---