What are the most popular Train Games?
What are the new Train Games?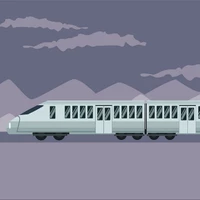 Play Free Train Games Online
The first train ever left the station two centuries ago. People like trains for that special atmosphere. It's like they promise new adventures and experiences. Our selection of train games online is your ticket to new emotions. Bored of being a common passenger of a train? Try to operate one, and you'll never be the same again.
Train Your Skills
There are a lot of skills you can train here (got it? We've tried our best). Apply your resource management know-hows to build a nice and safe railway system. React quickly to operate a huge machine of steel. Be a forward thinker to fit the schedule. Be brave and a little bit crazy to jump over vehicles (like in Subway Surfers). How cool is that: you have fun and practice abilities you'll always need. Use this training (oh we're not planning to stop) spot we've created for you.
How To Play Train Games
The mechanics vary from game to game, depending on its type. They are easy to get, even if it's your first time. Follow the instructions appearing on screen. Sometimes you'll have to move very quickly as the pace is rising. In other cases it's more about the decision you make, not the speed. Sometimes it's both. Take your time to admire beautiful landscapes and carefully drawn details. Oh, and watch the road.
Are Train Games Free?
Yes, they are free, virus-checked, and totally safe. They are also available for any type of device. Whether you're using a laptop, a phone, or a tablet, it's OK, and everything works. Play wherever you want (even in a real train, yep). Have a good trip!
---
We carefully selected 7 of the greatest Train Games and made them available for you online for free.
This archive consists of browser games for desktops and mobile platforms as well as titles specifically designed for tablets and phones. Here you will find some truly amazing gems like Subway Surfers, Conduct This, Douchebag Workout, Routemania, Train Simulator, and tons of other awesome free games.
---