What are the most popular Motorbike Games?
What are the new Motorbike Games?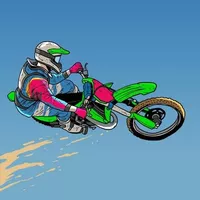 Play Free Motorbike Games Online
Have you ever dreamed of being a biker? An easy rider alone with the road on a summer night? Living free comes at a price that few are willing to pay. The rest of us can play motorbike games sitting in comfortable chairs behind our screens. Explore enormous highways stretching throughout entire regions. Participate in high-stakes races against opponents set to win by any means necessary. Take your metal steed to the garage, and install some worthy upgrades. Gaming companies strive to make the experience everything you thought it would be and more. The question is: are you ready to enjoy it?
Built for Speed
It's difficult to pinpoint what makes riding in virtual worlds so much fun. Getting used to your vehicle and then making it your own is part of it. Customize the ride with engine enhancements, sturdy wheels, and flashy paint jobs. Let your rivals know it was you who beat them to the finish line. Another fun aspect featured in some titles available on Kevin Games is physics. Realistic or not, they provide a great sense of immersion, letting you feel every bump. Let's not forget about the thrill of competitive racing. Going at a mind-boggling speed may cost you everything. But it brings you closer to victory. Are you willing to risk it all for a chance to win?
Competing in Motorbike Games Online
Single-player driving is fun, but nothing beats challenging other real players to a race. Unlike AI-controlled opponents, they are far less predictable. The most experienced person can suddenly make a mistake demolishing their chances. A complete newbie can get a lucky break and leave the others in the dust. Every lap is a struggle. A battle of minds and reflexes that requires absolute focus. Whether to enter such competitions or not is up to you. But the option is there.
No matter what kind of biker you are, our site has you covered. Explore our collection of motorbike games free of charge and find what suits you best. Participate in trials, figure out complex simulators, and have fun in casual races. At last, there's nothing preventing you from hitting the road. Put your helmet on, and ride on!
---
We carefully selected 17 of the greatest Motorbike Games and made them available for you online for free.
This archive consists of browser games for desktops and mobile platforms as well as titles specifically designed for tablets and phones. Here you will find some truly amazing gems like Super Duke R, Extreme Bike, Bike racing, Cartoon Motorcycles, Flying Motorbike Real Simulator, and tons of other awesome free games.
---