What are the most popular Witch games?
What are the new Witch games?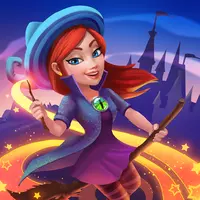 Play Free Witch games Online
Nearly all kids like to dream about wielding the power of magic. The very idea of uttering intricate incantations and brewing potent potions is fascinating. For the longest time, that was only possible in the realm of imagination. But today, there are countless Witch games online for children and grownups to enjoy. Go to secret schools of wizardry and become an exemplary student. Interact with all manner of quirky characters and paranormal entities. Craft precious artifacts and gain numerous supernatural abilities to overcome obstacles and defeat formidable foes.
Pure Witchcraft
There are tons of popular simulators that strive to be as realistic as possible. But exploring inexplicable phenomena feels a lot more exciting and mysterious. And electronic entertainment provides a perfect opportunity to do so. Kevin Games has an entire category dedicated to sorcery and divination. It features dozens of high-quality entries that come in many varieties, namely:
Classic platformers and side-scrollers with magicians and enchantresses as their protagonists or villains
Puzzles and brain-teasers that revolve around alchemy and spells
Dress up and makeover sims with an arcane theme
Point-and-click adventures and interactive stories in the same setting
In this assortment, individuals of all ages and walks of life can find something suitable. Whether they are fans of Harry Potter or Sabrina, this collection will not disappoint.
How to Play Witch Games Without Installation
Several generations of players grew up with consoles and traditional PC titles. They've come to expect steep prices and a relatively narrow range of choices. But the industry has changed drastically over the years. These days, the competition is very stiff, and companies have to adapt. To entice consumers, many have abandoned the idea of charging them for digital amusements completely. Instead, developers publish their works without expecting compensation in the conventional sense. They make money by showing short ads between the playthroughs. And on websites like this one, anyone can run web-friendly apps without downloading any files. Simply click on the desired thumbnail in Chrome, Firefox, or another modern client. Once the menu loads, press Start, and begin having fun.
Defy the laws of physics and tap into the unlimited potential of energies and elements. Master the arts of enchantment, spell-casting, and summoning. Access amazing witch games for free and have a blast.
---
We carefully selected 6 of the greatest Witch games and made them available for you online for free.
This archive consists of browser games for desktops and mobile platforms as well as titles specifically designed for tablets and phones. Here you will find some truly amazing gems like Witch Alchemist Saga, Time Witch, Witch Magic Academy, Witch Killer, Ritual Duel, and tons of other awesome free games.
---