What are the most popular Knockout games?
What are the new Knockout games?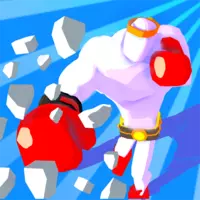 Play Free Knockout games Online
Online knockout games are a meditating collection of both cool and weird adventures. Set in the digital world, the journeys are designed to entertain. Their advantage is that each session is short. This won't let you get bored. Additionally, they're easy to dive into thanks to their browser-based nature. No downloading is required to enjoy the challenges alone or with friends!
Get Primed for Anything
The plots may seem crazy in some cases. For example, you'll be tasked to throw other players from the rooftop. Or run through maddening obstacles, with your opponents trying to leave you behind.
But the agenda is always clear: win no matter what! Be the only person alive. Become the first to cross the finish line. Get more scores in a football match. And so on.
How to Play Knockout Games
You won't spend a lot of time trying to understand what to do during matches. Instructions are not needed in most cases as everything is intuitive. It's clicking, dragging, or pulling with your mouse or touchpad.
The trickiest part is the sensitivity of your reaction. Will you find the perfect moment to act? Do you see how your actions influence your chances to win? Train your logical thinking, marksmanship, reflexes, etc.
Where to Start?
Pick any adventure and find out if it makes you feel relaxed and happy. Knockout Games are free, so you won't have to spend your money on this entertainment. Additionally, they'll be with you wherever you're: school, work, home, on the go. They're easy to access from your browser on Kevin Games. Come and check out for yourself.
---
We carefully selected 5 of the greatest Knockout games and made them available for you online for free.
This archive consists of browser games for desktops and mobile platforms as well as titles specifically designed for tablets and phones. Here you will find some truly amazing gems like Soda Can Knockout, Run Royal Knockout, Penalty Shootout Multi League, Run Royale Knockout Ultimate, Fall Boys Ultimate Knockout, and tons of other awesome free games.
---