What are the most popular Tile Games?
What are the new Tile Games?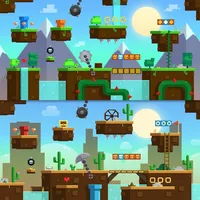 Play Free Tile Games Online
Looking for decent browser-driven adventures? Play tile games, a collection of titles that feature a similar topic. But completely different mechanics. They're perfect to enjoy on the go and when having a couple of break minutes. Try them from any gadget. Just make sure there's an internet connection.
Love to Animals, Love to Riddles
Have you ever played Mahjong? It's an ancient China board game that is now available in a digital format. In Paw Mahjong, only the concept reminds of its original predecessor. Connect 2 identical cards and get rid of every object on the screen. However, tiles feature cartoon-like pets instead of traditional China signs. This and simple gameplay make it interesting even for small children.
Fast-Speed Shooting
In Ballistic, you focus on your luck and marksmanship. Rows of cells with numbers will keep coming from above. Don't let them touch the bottom. Otherwise, you'll lose! Upgrade your weapon to fire several "bullets" at a time. Have fun with your friend by completing rounds in turns. Compare who the best shooter is and enjoy the process.
Tile Games Online Under a New Angle
Ready to see your poppit toy in a digital format? Welcome to Popit vs Spinner. The basics are the same. Just click on the cells to produce relaxing sounds. However, there must be at least 2 neighboring ones for this to work. Can you clear the field completely? It is the only way to win. Are you stuck? Use a spinner to eliminate any cell you want. Complete all 3 levels without losing. If you do lose, you'll have to start from the first level! It seems cruel but stimulates to focus on the process.
More Funny Activities to Try
Other cool on-screen toys are waiting for you on Kevin Games. All you need to do is to choose the one to your liking. And dive into journeys that are waiting in the tile games free from registration.
---
We carefully selected 5 of the greatest Tile Games and made them available for you online for free.
This archive consists of browser games for desktops and mobile platforms as well as titles specifically designed for tablets and phones. Here you will find some truly amazing gems like Paw Mahjong, Pixel Cat Mahjong, Popit vs Spinner, Alus Revenge 2, Ballistic, and tons of other awesome free games.
---