What are the most popular Mini Golf Games?
What are the new Mini Golf Games?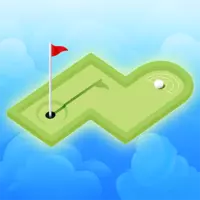 Play Free Mini Golf Games Online
Tired of shooters and browser toys with fast-moving graphics? Choose something calmer. Play mini golf games for a change. We've prepared a selection with adventures. They are sure to suit any taste. Do you like vast fields and big distances? We have such ones. Or maybe you are a fan of minimalistic titles with a variety of challenges? Congratulations! Here you will find such entertainment as well.
Nothing Can Stop You
There are some similarities, which unite these adventures. The most obvious is the topic, of course. But their sets of obstacles are not very different. One usually meets water, sand, flower pots, and hills. Some even have sharp objects. For instance, blades. They blow you up, and you start anew.
The combination of items gets more complicated with each new round. You make mistakes, you become cleverer. And choose different strategies. As a result, you turn into a real pro in the end.
Mini Golf Games: The Variety of Types
What to expect from this selection? Each title sets its own conditions to succeed. Here are 2 major ones:
Restrictions on the number of hits
It is a common feature. Actually, it is a way to make adventures interesting. If you have limitless tries, you get bored. But this condition encourages you to find the most optimal way to win. And if you succeed, you get more points.
Scoring systems
Any on-screen toy is based on collecting points. You can do it either by making as few throws as possible or pick bonuses. Chasing them may lead you to waste more tries. But they increase your reward.
Why Choose Mini Golf Games Free?
The variety of levels and environments attracts a lot of users. It is a recreational and distressing activity. Trying to predict the ball's movement, you learn to think strategically. And you understand that maybe sometimes you need to throw in the opposite direction to win.
Join When you Feel Like It
Our titles have an important advantage. They are portable and very compact. Enjoy them on the go. Or join from home if you are looking for some entertainment. Mini Golf Games online don't cheat you into spending money on them. It is 100% free. Besides, we add no hidden purchases. Visit Kevin Games, pick the virtual app you like, and have fun. No installation or downloading. Just update your browser to the latest version.
---
We carefully selected 7 of the greatest Mini Golf Games and made them available for you online for free.
This archive consists of browser games for desktops and mobile platforms as well as titles specifically designed for tablets and phones. Here you will find some truly amazing gems like Mini Putt Gem Garden, Minigolf World, Minigolf Master, Abstract Golf, Mini Golf Adventure, and tons of other awesome free games.
---