What are the most popular Eating games?
What are the new Eating games?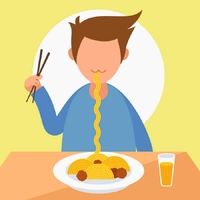 Play Free Eating games Online
It's probably fair to say that food is universally loved. In fact, proclaiming yourself a fan of food is a bit of a weird statement. It's kind of obvious, considering the fact that our lives depend on being satiated. Nevertheless, humans often sing praises for their favorite sources of nutrition. Just look at the number of eating games online. Players can't even taste the delicious treats appearing on the screen. And yet, something about playing these tasty interactive adventures appeals to wide audiences. Perhaps, it's a way to quench certain cravings without overindulging. Or, on the contrary, an inspiration to consume something particularly appealing. Whatever the case is, plenty of entries in this category are both entertaining and satisfying.
A Matter of Taste
Stating the theme alone isn't enough to describe a particular work of fiction. Many titles on Kevin Games are food-related. But their gameplay can differ greatly. Some are casual and kid-friendly, others are more challenging. Here are a few examples of what the players can be expected to do:
Sort through edible and inedible objects under a time constraint
Feeding someone based on their changing requests
Solving puzzles and being rewarded with cakes or candy
Devouring enemies as an insatiable monster
Sure, certain playstyles and subgenres may not be for everyone. However, such a rich diversity of mechanics makes it easy to find something suitable.
Best Way to Play Eating Games
Those looking for this particular type of entertainment have come to the right place. This site features a comprehensive collection of sims, puzzles, actions, and other theme-appropriate titles. Browse through the catalog and discover tons of appealing options. Pick one and start playing in a browser tab. Use the mouse and keyboard to control the characters or manipulate objects.
Not everyone is lucky enough to be able to eat junk food in unlimited quantities. Juicy hamburgers, steaming-hot pizzas, and fluffy cakes are sources of both pleasure and regret. Enjoy eating games free of guilt to make any craving go away. Stay healthy by surrendering to virtual gluttony instead. Binge any treats in insane numbers and have fun in the process!
---
We carefully selected 9 of the greatest Eating games and made them available for you online for free.
This archive consists of browser games for desktops and mobile platforms as well as titles specifically designed for tablets and phones. Here you will find some truly amazing gems like Body Race, Caterpillar Crossing, Cheese Route, Feed Bobo, Eat Small Fishes, and tons of other awesome free games.
---