What are the most popular Wizard games?
What are the new Wizard games?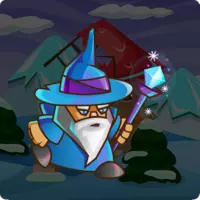 Play Free Wizard games Online
Wizard games online are a special category of digital adventures. Spiced with spells and magic creatures, they feature diverse activities. Of course, they're all connected with the world of sorcerers. Become a magician to fight off hordes of orcs. Control troops to protect your home from dark creatures. Or study curses in an impressive magic school.
Common Features
Magic is not the only thing that unites the titles. They can also boast about top-notch graphics and intuitive gameplay. Addictive content makes them popular among many users. Besides, they're located on Kevin Games. It's a website of free adventures, available without registration or downloading.
Play Wizard Games: Hooking Strategies
Take on the role of a fearless commander. Send units right into the hell of a fight. In Castle Defense, this concept is implemented in an interesting way. You rule a paper kingdom and protect your settlement with a small army. Zombies, venomous spiders – they want to feed on your corpses. The mechanics of Cat Wizard Defense are similar. But here you deploy kittens to secure your village with enchantments. From whom? Evil slimes that look like filthy balls with eyes and weapons.
Showing Off Skills with Puzzles
Meditate with challenging riddles. For example, with Potion Flip. Become a jumping bottle with a key ingredient inside. Hop on different surfaces and collect stars. Until you finally reach the pot to complete the level. It's harder than it sounds! The title Wizard vs Orcs focuses on marksmanship and the ability to predict a trajectory. Attack green bad guys with fireballs. Solve puzzles to reach them. And enjoy the audiovisual magic.
More to Find
There are other Wizard Games free to try. Enjoy them in your browser, and don't be afraid to catch viruses. Our platform doesn't allow them to penetrate the security system. Safe and mind-blowing adventures are our priority.
---
We carefully selected 9 of the greatest Wizard games and made them available for you online for free.
This archive consists of browser games for desktops and mobile platforms as well as titles specifically designed for tablets and phones. Here you will find some truly amazing gems like Wizard vs Orcs, Magikmon, Castle Defense, Wizard School, Potion flip, and tons of other awesome free games.
---
Also people ask about Wizard games