What are the most popular Scooter Games?
What are the new Scooter Games?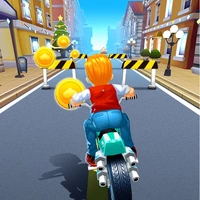 Play Free Scooter Games Online
Online scooter games are digital adventures that run through modern browsers. No need to download this high-quality content as it's browser-based. The pleasant topic, slow-paced gameplay, nice visuals… Dive in for a couple of rounds when you feel like relaxing!
Paint Both in the Real and Virtual
What about having a coloring book at hand whenever you want? The collection features just the title to suit such a dream. It features black-and-white sketches and gives you all the instruments you need. Use them to create beautiful pictures. Save the results if you want to share them with friends.
Play Scooter Games: Puzzles
Fans of this genre are sure to enjoy the wide selection of options. Each has lots of pictures, nice graphics, and 3 levels of difficulty. As a result, the titles won't scare inexperienced users and will be interesting for pros.
Driving Also Included
The collection would have been weak without an action-packed adventure. Hoverboard Stunts Hill Climb gives you the keys from a strange but powerful vehicle. Conquer challenging tracks in the air and avoid falling into lava.
Possible With Friends!
All these scooter games are free but single-player. However, there is a way to use them as entertainment for a few contestants. Just take turns! But remember to set up rules and a fair scoring system to pick the winner. If it's a puzzle adventure, make the time and complexity level the key factors. If it's a coloring title, ask someone to evaluate the results. Or let the participants vote.
Enjoy them on Kevin Games and have a look at other categories on its pages.
---
We carefully selected 5 of the greatest Scooter Games and made them available for you online for free.
This archive consists of browser games for desktops and mobile platforms as well as titles specifically designed for tablets and phones. Here you will find some truly amazing gems like Super Scooter Jigsaw, City Scooter Ride Coloring, Hoverboard Stunts Hill Climb, Electric Scooter Rides Jigsaw, Scooter Bike Jigsaw, and tons of other awesome free games.
---