What are the most popular Poppy Playtime Games?
What are the new Poppy Playtime Games?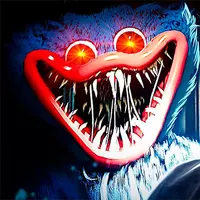 Play Free Poppy Playtime Games Online
Online Poppy Playtime games reflect cool titles about the famous monster Huggy Wuggy. Being a harmless toy during the day, it does terrible things at night. Such as hunting down people and tearing them apart. Despite its devil nature, users love this cruel creature. And are eager to see it in other adventures as well. It's your chance, so dive into the options we've collected to have fun!
The Hit of 2021
The original horror Poppy Playtime was introduced by a small team of indie developers. They used Unreal Engine 4 to power the single-player entertainment. The action takes place in an old non-functioning factory. Looking for a long-missing employee, you find out that something is wrong there. Huggy Wuggy turns out to be the monster that loves human blood.
To survive, explore the building, solve puzzles and hide from the bad guy. There are items to collect and use in different locations. In which ones are for you to decide. You won't get any help in the mission. Rely on your senses, come up with a strategy, and don't make rash moves.
This digital world got lots of praise after the initial release. YouTube and Twitch influencers uploaded videos, making it even more popular. The developers are planning to add new chapters to their creation. Fans are expecting the next one to be released in 2022. It's now available for Microsoft Windows. But further incarnations will run from smartphones as well.
Play Poppy Playtime Games in Different Genres
The title is supposed to be a horror. But fan-made versions don't necessarily follow this path. You'll meet harmless adventures in a jigsaw style. Just make the pictures of both nice and scary creatures whole. Enjoy its company, level up, and try to meditate under its hair-raising glare.
You can also find a toy made for Android and iOS and called Poopy Challenge 3D. It features Huggy in other popular digital worlds. Such as Red Light, Green Light, Rock Paper Scissors Shoot!, etc. In most cases, it's not as creepy as the original.
But most existing versions copy and improve the basic concept. Which is to scare players to death! Have a look at our collection and try some of them.
Which Poopy Game to Choose?
It's hard to pick something in particular with so many options available. Rely on your preferences. Some adore the panic they feel when completing the hardest levels of the horror. They like the challenge and the emotions they experience. Others, on the contrary, can't stand it. They prefer something more meditating like puzzles or similar genres. A tip: try everything if you have enough time and will to do so. You're sure to find the title that fits your taste. As well as have fun alone or with friends.
Where to Start?
The villain and gameplay are super popular right now. There are a lot of copycats and fun-made content to enjoy. However, be careful when searching for the challenge to complete. Some websites are dangerous:
Hidden viruses may penetrate your device to steal information or destroy the system.
Unscrupulous people may force you to pay for the entertainment. Don't take the bait: it's designed to be free.
In addition, some portals give access to the titles only if you sign in. And offer never-ending unskippable ads that ruin all the fun. If you want to avoid this stuff, come to Kevin Games. It's a good website that has digital toys for every taste. Here you'll find hundreds of decent options.
Poppy Playtime games are free for anyone to dive into. Just pick one from the category. It'll run right through your browser without downloading. A tip: Chrome is the best choice. Update it to its latest version and switch off the AdBlocker. It'll ensure better performance without glitches.
---
We carefully selected 10 of the greatest Poppy Playtime Games and made them available for you online for free.
This archive consists of browser games for desktops and mobile platforms as well as titles specifically designed for tablets and phones. Here you will find some truly amazing gems like Poppy vs Friday Fight FNF, Love Rescue, Poppy Granny Playtime, Huggy love, Save the Poppy Time, and tons of other awesome free games.
---
Also people ask about Poppy Playtime Games
Who made Poppy Playtime?

Poppy Playtime was created by a small indie team called MOB Games. This famous survival horror was directed by Isaac Christopherson and produced by Zach Belanger.

Where can I play Poppy Playtime?

Play the browser version of Poppy Playtime on Kevin Games. It's free and runs without installation.

How to play Poppy Playtime?

Explore the abandoned toy factory and uncover its secrets. Walk with WASD, look around by moving the mouse cursor. Press the interact button to activate buttons and other objects in the vicinity.