What are the most popular Food Games?
What are the new Food Games?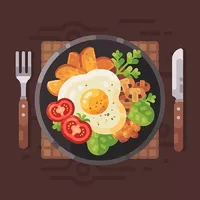 Play Free Food Games Online
We cook, we eat, we play food games. This is a huge part of people's lives. Imagine your everyday routine without meals. It is impossible! Not only are the edibles essential to stay alive. They are also a great pleasure, a way to unite, a thing to talk about. Can you call yourself a true gourmet? We've got a great collection of browser activities just for you.
Enter The World Of Flavors
This page is a perfect place to start your gastronomic adventure. Take your cooking and serving skills to the next level with Kevin Games. Learn new recipes. Explore the cuisines of different countries. Try yourself as the chief of 5 star establishments. Discover new ingredients and exciting combinations. Let your inner artist out. Find new friends. Make epic collabs with users from other countries.
Why You Should Try Food Games Online Now
Are you a culinary enthusiast? Then you should be familiar with its pros and cons. And this is the best thing about digital cookery. It keeps all the entertainment and gets rid of the rest. A good simulator gives lifelike emotions. Real products are expensive. But here you pay zero cents. If things go wrong, you can always restart. You don't have to clean the kitchen after experiments. Plus, you can switch from one thing to another with a few clicks.
Enjoy The Best Food Games Free
Customize your experience to your liking. It is free and available on different platforms. Just open your favorite browser to join the worldwide community. Create the coolest munchies of all times without leaving your comfort zone. Use a device you prefer: a laptop, a phone, or a tablet. Have a nice time and even a nicer meal!
---
We carefully selected 21 of the greatest Food Games and made them available for you online for free.
This archive consists of browser games for desktops and mobile platforms as well as titles specifically designed for tablets and phones. Here you will find some truly amazing gems like Bread Pit, Jumping whooper, Sweet Donut Maker Bakery, Choly Food, Kitty Lunchbox, and tons of other awesome free games.
---
Also people ask about Food Games
Games where you make food.

Overcooked 1 and 2, Cooking Simulator, and Battle Chef Brigade revolve around virtual cooking. Minecraft, Terraria, and other survival games also feature meal preparation as part of their gameplay.