What are the most popular Baking games?
What are the new Baking games?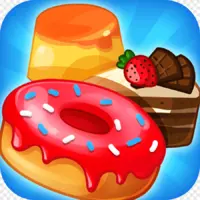 Play Free Baking games Online
Have you always dreamt of becoming a pastry chef? Well, dreams come true! On this page, you will find the best baking games online. Each of them is available via browser. You don't have to download and install unknown apps. The culinary adventures run smoothly both on PCs and mobile devices. Check them all and find your faves.
Get your piece of HQ content
Put on your apron and heat the oven. Everything is ready for you to get the most amazing cooking experience. Enter the universe of cakes, cookies, pies, scones, and other goodies. Experiment with batters, doughs, stuffings, and icings. You know what is really important in life, don't you? That's right: a firm dry crust and a softer center are. In the name of the lush bread, we begin our journey.
Play baking games on our website
The coolest food-themes titles are collected in one place. The entire collection is at your fingertips 24/7. And this is not only about entertainment. Though it's the main part, you get something else. While having lots of fun you sharpen some very useful skills. For example, to run a successful bakery takes a lot. Improve your time-management, forward-thinking, fast decision making, etc. Isn't it great to learn new things with heaps of high spirits involved?
Safety first on Kevin Games
We never ask you to share your personal data. No registration is needed to join the worldwide community of kitchen enthusiasts. Plus, you may use any device you prefer better. It can be a laptop, a smartphone, a tablet, or a Chromebook. And not a single cent will be spent while you're here. Enjoy the coolest baking games free of charge from any place, at any moment. Invite your friends and family to cook together. Let's make this world a better place full of flavors!
---
We carefully selected 4 of the greatest Baking games and made them available for you online for free.
This archive consists of browser games for desktops and mobile platforms as well as titles specifically designed for tablets and phones. Here you will find some truly amazing gems like Sweet Donut Maker Bakery, Strawberry Shortcake Bake Shop, Cake House, Cake Shop: Bakery, and tons of other awesome free games.
---