What are the most popular Hamburger Games?
What are the new Hamburger Games?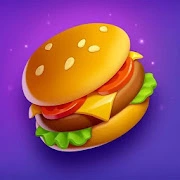 Play Free Hamburger Games Online
Warning: don't enter this category if you're hungry. These hamburger games online are mouth-watering! Plus, they are really gripping and fun. Seems like a perfect combo (with fries and a drink, please). Start your journey in search of new flavors.
4 reasons you should try this
Ok, what else is good about all those goodies?
Going to a restaurant can be pretty expensive. Here you won't spend a single cent.
You can use any type of device.
There is a version available for any platform here, on Kevin Games. A PC, a mobile phone, a tablet, and even a Chromebook will go. Enjoy the smooth gameplay no matter what you choose.
The graphics are awesome.
Creators do their best to make you happy. Cool audio complements the picture.
You can join from anywhere.
All that is needed is an internet connection and a compatible browser. Explore this selection while you're at school, at work, on your way to McDonald's.
Join the hamburger games, free your heavy eater
Unlock new levels of your appetite. From juicy to spicy, these titles were made to cheer you up. Travel through the world of double portions having no remorse. This is another argument in favor of digital fast food. It doesn't bring you extra kilos, but tons of joy. Looks like a perfect choice for any occasion.
Play hamburger games on this page
There is a nice choice of yummy options. Run a successful business in a Beach Restaurant. Cook and serve delicious patty plats to your customers in Burger Shop. Don't give away a single bite in a hilarious Burger Challenge. Check the whole list, you'll definitely find something for your taste. Have a nice meal!
---
We carefully selected 7 of the greatest Hamburger Games and made them available for you online for free.
This archive consists of browser games for desktops and mobile platforms as well as titles specifically designed for tablets and phones. Here you will find some truly amazing gems like Burger shop, Jumping Burger, Burger Challenge, Burger trucks jigsaw, Beach Restaurant, and tons of other awesome free games.
---