What are the most popular Tennis Games?
What are the new Tennis Games?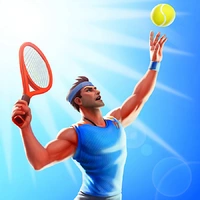 Play Free Tennis Games Online
One of the oldest and classical sports is presented in this category. Obviously, you should try tennis games free on our site right now. And we will tell why.
Think big, act fast
The real thing is definitely cool. But its online version is even more interesting and variable. Now it goes beyond the classical game. The rules of the game are the same, but the mechanics of each project are unique. Hitting the ball with a racket sounds boring already. That's why we prefer to turn things upside down. And hit a racket with a ball. Or on the other side control a player while he's hitting the projectile. You can do both.
On the other hand, it's possible to control the paddles by themselves. Do you like "battle royale" gameplay? It's possible to test your luck and skills on some kind of survival royal. It's all tennis but there are numerous variants of its interpretation. Or maybe a boss fight with aliens? Letting all on fire also seems lit. These sort of things definitely improve one's feeling of the game.
Where to enjoy tennis games online
Playing real sports needs special equipment, a playground and some other people involved. Let's try to simplify the fun here at Kevin Games. Same pleasure but with less time, money and energy spent. Each player will see something preferable for his own. Play tennis games right now to fight boredom with the internet. Or you can try any other game that we have here. Thousands of games are waiting just for you to enjoy.
---
We carefully selected 5 of the greatest Tennis Games and made them available for you online for free.
This archive consists of browser games for desktops and mobile platforms as well as titles specifically designed for tablets and phones. Here you will find some truly amazing gems like Stolk.io, Crazy tennis, Tropical tennis, Ping Pong, Tennis masters, and tons of other awesome free games.
---