What are the most popular Learning Games?
What are the new Learning Games?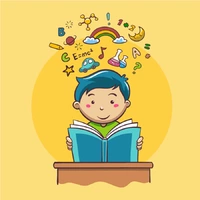 Play Free Learning Games Online
Education is a very important process that occurs throughout life. What many people don't realize is that studying never really stops. In fact, an individual's knowledge is not determined by schools and colleges alone. However, it is imperative to start early, when neural pathways are easy to form. Learning games free the mind's cognitive capabilities in the least overbearing manner possible. They help develop logical thinking, problem-solving, and many other useful skills. Even adults benefit from playing them regularly. Every brain needs a workout now and again, especially when the daily routine becomes repetitive. Discover a world of entertainment intended for self-improvement and get an extra edge.
A Sea of Knowledge
What's great about this category is that it encompasses a great number of genres. Kevin Games features dozens of top-quality educational titles for all intents and purposes:
Logic and physics-based puzzles
Matchmaking memory enhancers
Point-and-click adventures that focus on seeking solutions to complex issues
Straightforward interactive exercises that help with math, reading, and writing
Thanks to such a huge variety of options, the choices are almost unlimited. There are tons of great products to fit any playstyle imaginable.
How to Access Learning Games Online
All titles of this kind have one thing in common. They are designed to be easy on the hardware and can run on any device. This site's collection is a great place to start. Browse the archive, find something interesting, and launch it in a browser window. Touch controls, gamepads, mouse and keyboard usually work with no issues. The choice of the platform comes down to individual preference. When a certain style of gameplay becomes boring, switch to another through the suggestion bar. Explore countless fun mechanics and form a list of personal favorites.
Pastime activities don't have to be mind-numbing and pointless. Play learning games to stay sharp, develop new skills, and practice the existing ones. Training reflexes, improving strategy, and increasing the brain's efficiency has never been so engaging. Enjoy the full spectrum of entertainment without wasting any time on downloads and installations. Try it all and never stop getting smarter.
---
We carefully selected 11 of the greatest Learning Games and made them available for you online for free.
This archive consists of browser games for desktops and mobile platforms as well as titles specifically designed for tablets and phones. Here you will find some truly amazing gems like Clock puzzle, Matching Vehicles, Correct Math, The Math Boy, Scale of the Universe 2, and tons of other awesome free games.
---
Also people ask about Learning Games
Why games are good for learning?

Learning through play is more fun and engaging. There are special educational games that revolve around math, spelling, history, and other school subjects. Logical puzzles are great for mental acuity and thinking. Some titles can improve memory and comprehension.

What is some fun learning games?

The ABC Game is great for memorizing the alphabet. Little Alchemy is a wonderful universe simulator. Three Pandas is an interactive adventure that rewards logical thinking.