What are the most popular Skiing Games?
What are the new Skiing Games?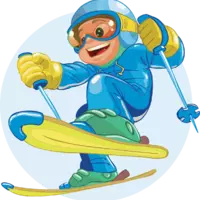 Play Free Skiing Games Online
Winter sports and activities are incredibly exciting. Unfortunately, kids and adults cannot enjoy them all year round. Not to mention the fact that certain hobbies require travel and special equipment. Thankfully, there is a way to experience them without wasting tons of money. Online skiing games are capable of providing the same level of engagement in virtual environments. Moreover, they eliminate the daunting training process, leaving only the fun parts in. Become a professional skier and ride down challenging slopes. Complete even the most extreme courses with ease and set personal records. Soak up the backcountry atmosphere and perform cool tricks while sitting in a comfy chair.
Dashing Through the Snow
There are numerous ways of structuring the gameplay around a specific pastime. In this case, studios have vastly different approaches to the subject. Some aim to recreate real-life sensations as accurately as possible. Others go for a more arcadey feel. Kevin Games has the following options to offer:
Realistic simulators where every moment counts and the slightest mistake can ruin the playthrough
Casual alternatives that are a lot more forgiving and prioritize amusement above all else
Tycoons and business managers that involve building and maintaining mountain resorts
Miscellaneous puzzles, point-and-click, and dress-up adventures
This assortment encompasses a wide range of playstyles to suit any taste. Don't be afraid to experiment and give all the variations a chance.
How to Play Skiing Games Without Installation
Titles that fall under this umbrella are not particularly difficult or time-consuming to make. As a result, the developers often publish their works on popular gaming websites. To launch them, users don't have to download any files to their local PCs. Instead, they can simply click on the thumbnail that caught their attention. Wait a few seconds for the frame to load and press Start to begin. Enter the full-screen mode with the F11 key for maximum immersion. And consider disabling ad blocking plugins to support the creators.
During the holiday season, many people find themselves longing for a much-needed vacation. Unfortunately, not everyone is able to afford it. However, modern computer entertainment provides increasingly accessible and convenient opportunities to scratch that itch. Browse the collection and discover dozens of amazing skiing games free of charge.
---
We carefully selected 3 of the greatest Skiing Games and made them available for you online for free.
This archive consists of browser games for desktops and mobile platforms as well as titles specifically designed for tablets and phones. Here you will find some truly amazing gems like Ski King 2022, Ski King, Princess Winter Skiing, and tons of other awesome free games.
---