What are the most popular Pumpkin games?
What are the new Pumpkin games?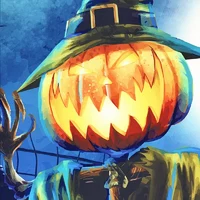 Play Free Pumpkin games Online
Pumpkin games online are a collection of cool titles. The variety of genres and adventures is sure to surprise you. Meditating and relaxing or fast-paced and nerve-rattling... Whatever you choose, it's going to be a nice digital journey. Geronimo!
Upgrade Your Logical Thinking
Collecting puzzles is one of the classic ways to perfect your mental activities. Now it's more convenient to enjoy them in a digital format. They are free of charge and can offer several pictures to play with. In Fun Halloween Jigsaw, 12 images feature all kinds of monsters. Adjust the settings and choose an easier or more difficult mode. Beginners and small kids can start with 25 pieces at first. Advanced players usually opt for 49+ elements to deal with.
If you feel like improving your attention and concentration, try Find Different Pic Halloween. You'll get 4 images in a row. All but one are identical. Find this tiny difference. Scan, compare them and click on the right answer. Get primed for over 40 levels to go through.
Play Pumpkin Games: Meditating Content
It's great to get carried away by a casual adventure during breaks. Halloween Craft can cope with the task perfectly. It's a Match 3 toy, in which you place 3 identical objects together. Click on the cell in the grid to make a move. Think before acting, as you lose if there isn't any space left.
Feel tired at work or school? Want to shout at somebody? Dive into Pumpkin Monster and kick the beast's butt instead. It'll help your steam out without hurting anyone in real life. Use your bare hands or pick a weapon from the arsenal. Firearms, blades, etc … There are a lot of options to choose from!
Traverse the Platforms to Test Your Reaction Skills
Platformers are popular thanks to the variety of content. Run long distances, jump, evade obstacles, and fight enemies. In Ninja Pumpkin, there are only 10 rounds to complete. However, the route and jelly-like beasts do everything to make it harder. Learn to overcome obstacles, show off your skills, and win!
Something similar is waiting for you in Running Pumpkin. Armed with knives, you fly over platforms and combat dark creatures like skeletons or vampires. It's endless, hooking and challenging at the same time.
More to Try
Kevin Games is a website that hosts a lot of interesting titles. Provided free of charge, they are great entertainment options for any age group. Enjoy pumpkin games free from downloading. Then switch to other top-notch adventures and play them right from your browser.
---
We carefully selected 11 of the greatest Pumpkin games and made them available for you online for free.
This archive consists of browser games for desktops and mobile platforms as well as titles specifically designed for tablets and phones. Here you will find some truly amazing gems like Running Pumpkin, Halloween Idle World, Pumpkin Monster, Halloween Craft, Ninja Pumpkin, and tons of other awesome free games.
---