What are the most popular Wedding games?
What are the new Wedding games?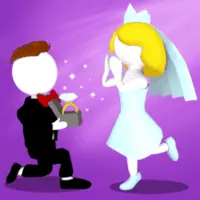 Play Free Wedding games Online
Ahh, the greatest day for any girl! Or even a boy perhaps, too.Of course you know what I am talking about. The most important lovers day of marriage. But if you are still too young for it, no one would mind you enjoying it a little. In the most awesome wedding games online.
The more you know
Without further adieu I guess it is impossible to fully understand a game without knowledge. About how it all started and why it is all so holy. And especially fun nonetheless! Here at Kevin Games we are very confident about it. They say, marriage is a connection made in heaven. Yeah, sometimes people misunderstand it. But mostly it is something good. Second of all - the white color of a dress. It must mean that the bride is pure of heart and ready for a new life. A color of peace and new hope. Last but not least are golden rings. The fact that they are made of expensive metal isn't necessary. But the bound they are meaning is crucial. As a mark of "I am already taken, look for someone else." Haven't you heard that different nations wear them on different hands? Pretty cool, right?
So what are wedding games free to offer?
Well, I won't say that this theme is too extraordinary of what you can expect. But it surely opens up quite well. Most of them are very regular dressing games with very impressive clothes. Even though the dress code is strict, it has various options. What you might not think of is makeup changing playstyle. And it's pretty unique how it changes the style someone is looking for. But there is something for lovers of fantasy books. Won't spoil anything. But just give some tips. It has fins, lives underwater and disappears in white waves.
Play wedding games right away! Dreams of a better life or maybe flashbacks are never wrong.
---
We carefully selected 6 of the greatest Wedding games and made them available for you online for free.
This archive consists of browser games for desktops and mobile platforms as well as titles specifically designed for tablets and phones. Here you will find some truly amazing gems like Talking Tom Angela City Wedding Boutique, Clara wedding planner, Wedding Ragdoll, Double wedding look, Happy Wedding Dress Up, and tons of other awesome free games.
---