What are the most popular Monster Truck Games?
What are the new Monster Truck Games?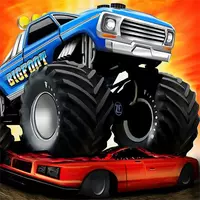 Play Free Monster Truck Games Online
Are you a fan of Monster Truck Challenge tv series? Then you've come to the right place. Aren't you? Still give this page a chance. Just imagine how epic it could be! You're at the wheel of a real beast, operating tons of steel. Everything depends on you. Sounds cool? Check out this collection of the best monster truck games free.
One Ride That Changes Everything
In the USA and some other countries, people are obsessed with those competitions. To be honest, they are ultimately cool. Today monster truck games online are a big thing. Same for the offline events. Developed in the 70s, they became extremely popular in the 80s. They gather hundreds of viewers and the craziest participants from all over the world. Here you can become a part of true madness. Are you ready?
How To Play Monster Truck Games
This selection is about speed and power. As for the rules, they may vary. Sometimes it is a play-off system. So you get kicked out after a single defeat. In other titles, you have several tries. Anyway get ready for some tough tracks, tricky obstacles, and crazy opponents. The win is never easy - that's why it feels so good.
Become A Pro Driver With Kevin Games
A real monster truck is usually equipped with off-road tires. Which means you can ride it literally on any surface. No jokes: this thing goes anywhere, from desserts to jungles. Just like you - play anywhere you want. Only pick a game and press Start. No viruses, no hidden payments. Use a PC or a mobile device. As they say, don't get stuck - ride a truck!
---
We carefully selected 18 of the greatest Monster Truck Games and made them available for you online for free.
This archive consists of browser games for desktops and mobile platforms as well as titles specifically designed for tablets and phones. Here you will find some truly amazing gems like Monster simulator, Winter monster truck, Winter Monster, Offroad Monster, Monster Truck 3D Winter, and tons of other awesome free games.
---