What are the most popular Fitness games?
What are the new Fitness games?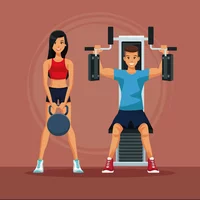 Play Free Fitness games Online
Fitness games online are a collection that focuses on the most challenging struggle. Namely, with ourselves! We all suffer when we have some extra weight. And dream of getting rid of it. Here you live through different situations, realistic, funny, and impossible at the same time. Each one has some important ideas to offer. Have fun and use these tips in your own life.
Willpower is the Key
How to become a muscleman from literary nothing? It takes a lot of training and diet suffering. But once you set your mind to something, it gets much easier. In Douchebag Workout, you can witness such a transformation. Even more than that, participate in the process! Workouts in the gym, some steroids, the balance between health and energy… It's under your control. A tip: don't play hungry. You'll need to choose meals for the main character. The temptation to choose cola and sweets is sometimes irresistible.
Play Fitness Games and Help Princesses
Wanna focus on cooking? Welcome to Princess Fitness Diet. It's a short adventure that teaches you to cook and serve dishes beautifully. See what ingredients one needs to make a tasty salad. Experiment and try the title several times. 1 set of ingredients, lots of delicious variants.
Another story of success happened to the girl in Princess Ariel Fitness Plan. Some extra weight made the main character take drastic measures. Witness a total reconstruction of one's lifestyle. Starting with physical activities and ending with healthy meals. What happens after a month of such dynamic rhythm? Check out yourself!
Accepting Your Body as It Is
Fed up with trying to lose weight? Tired of adventures that promote slimness? Then Fat 2 Fit Online is perfect for you. Here you strive for getting fatter by devouring fast food while you run forward. The bigger you are, the easier it's to complete levels. Collect gems. Invest them in improving your speed. Stay hooked with all the levels and challenges waiting for you there. Enjoy fitness games free of charge. Once you're through, consider trying other categories. Posted on Kevin Games, they're all worth spending your time on.
---
We carefully selected 8 of the greatest Fitness games and made them available for you online for free.
This archive consists of browser games for desktops and mobile platforms as well as titles specifically designed for tablets and phones. Here you will find some truly amazing gems like Fat to Fit Princess Fitness, Douchebag Workout, Body Race Fat 2 Fit, Fat 2 Fit Online, Body Race, and tons of other awesome free games.
---