What are the most popular Billiards Games?
What are the new Billiards Games?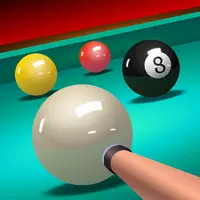 Play Free Billiards Games Online
Leisure is an important aspect of life that is often overlooked in the historical context. Enjoyable pastimes provide a much-needed retreat from everyday worries and bring people together. Cue sports, for instance, have existed for a long time and are still hugely popular. Unfortunately, not everyone has the equipment that is required to partake in this activity. But modern technology is capable of recreating the same experience on computer screens. Millions of users play billiards games in virtual simulators and have fun without any problems. Moreover, digital alternatives tend to offer more variety and break conventions by introducing additional mechanics. Learn all about the available options and where to find them in this article.
Pool of Choices
The concept dates back to the 15th century and has a rich history and tradition. To this day, enthusiasts participate in amateur and professional leagues demonstrating incredible skill. But electronic interpretations have a number of noteworthy advantages compared to their real-life counterparts, namely:
Accessibility. There is no need to visit crowded bars or take specialized classes. Kevin Games carries a multitude of compelling products to scratch that itch.
Ingenuity. With no physical limitations, it is possible to design all sorts of unconventional scenarios. They range from changing the shape of the table to implementing unexpected twists.
Convenience. Forget about looking for balls, chalking the stick, and setting everything up. Just press Start and begin the match at any moment.
The degree of realism depends on the specific title. But generally speaking, the learning curve is relatively low. Even a child can quickly get the hang of the controls and defeat AI opponents.
How to Access Billiards Games for Free
One of the greatest characteristics of this category comes from low hardware requirements. Almost any device can handle the necessary assets and textures without any issues. Furthermore, the process does not involve downloading any files or installing extra software. Simply browse this section of the website and pick a promising item from the list. Follow the link to launch it directly in a regular tab and enjoy. There are no catch or hidden fees to worry about. Just watch a couple of ads every now and again to support the developers.
Mastering unfamiliar hobbies takes many hours of practice before yielding noticeable results. By contrast, online billiards games are super easy to get into and highly entertaining. Check all the variations out and discover fresh releases every day. Memorize the rules, calculate the trajectories of the shots precisely, and become an unbeatable champion.
---
We carefully selected 5 of the greatest Billiards Games and made them available for you online for free.
This archive consists of browser games for desktops and mobile platforms as well as titles specifically designed for tablets and phones. Here you will find some truly amazing gems like Portal Billiards, Billiard Neon, Pool Mania, Billiard and Golf, Black Hole Billiard, and tons of other awesome free games.
---